Elementary Music Activities May Favorites 2023
Are you looking for elementary music activities for your lesson plans? Don't miss these FUN, simple ideas for your classroom.
The month of May has many observances that are extra special for schools. Appreciation days for nurses, teachers, and police officers are even more poignant during a pandemic. In this post, you will find some FUN elementary music activities for your music classroom. Set aside a little time to acknowledge a few of these special days of recognition.
Some other special observances for this month may spark an idea for a lesson or activity for your music classes this month. Read on.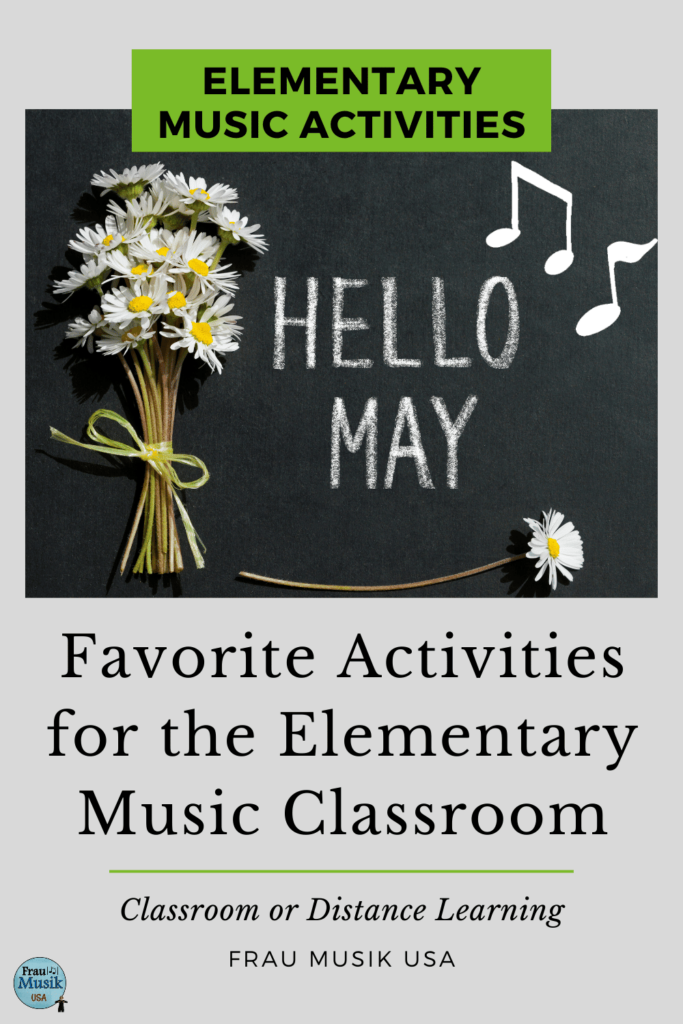 What's in this post? Click to open the Table of Contents
May Holidays and Observances
May 1 – School Principal's Day/May Day/Mother Goose Day
May 2 – International Harry Potter Day/National Fitness Day
May 4 – Star Wars Day – May the 4th be with You!
May 5 – Cinco de Mayo//International Tuba Day
May 6 – National Nurses' Day
May 10 – National Clean Your Room Day
May 11 – National Technology Day
May 13 – Frog Jumping Day
May 14 – Mother's Day
May 15 – International Family Day
May 16 – Do Something Good for Your Neighbor Day
May 19 – National Pizza Party Day/National Bike to Work Day
May 20 – National Armed Forces Day
May 21 – Take Your Parents to the Playground Day
May 22 – Buy a Musical Instrument Day
May 24 – National Scavenger Hunt Day
May 25 – National Sing Out Day
May 29 – Memorial Day
May 31 – National Smile Day
Weekly Observances
May 1-5 – Teacher Appreciation Week
May 6-12 – National Nurse Week
May 14-20 – National Police Week
Monthly Observances
Asian American Month
Pacific Islander Heritage Month
Jewish American Heritage Month
Foster Care Month
National Bike Month
National Inventors Month
Books Make Perfect Elementary Music Activities
Books are a staple in elementary music classes. If you have never used TumbleBooks online E-books, click to see more about using TumbleBooks in Elementary Music Classes. They have some great titles for the music classroom including two Joshua Bell stories. They even have a series of sing-along books!
The Best Mariachi in the World, by J.D. Smith with illustrations by Dani Jones is perfect to introduce Mariachi music and Cinco de Mayo.
Another book that would be perfect for any time of year, but especially now, is He's Got the Whole World in His Hands by Kadir Nelson. I picked up a "brand new" used copy from an independent bookseller on Amazon at a very reasonable price. (There are NO affiliate links here. I simply highly recommend this book.)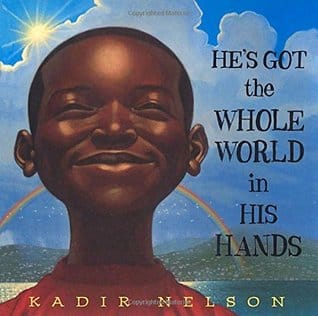 International Tuba Day
Who could let this day go by without a nod to the brass family, especially the tubas? I have a couple of free brass puzzles if you need some simple quick elementary music activities. These puzzles are PRINTABLE or they may be completed online using Easel, the TpT Digital Tool.
Or, use the DIGITAL VERSION. These puzzles are ready to assign with Google Classroom and may be completed online using Easel, TpT's Digital Tool – How to Use Easel.
Both the puzzles and Easel are FREE to use.
I Got Rhythm Interactive Story
I Got The Rhythm by Connie Schofield-Morrison is made INTERACTIVE by the Miami Children's Museum. Get ready to join in and ENJOY!
Composition Templates for Elementary Music – Printables
Teaching composition to young students can be tricky. Using templates makes composition projects much more successful for beginning musicians.
Need to learn more about using composition templates? Take a look at this blog post – Music Composition Templates for Elementary Grades.
These simple PRINTABLE Composition Templates include 9 DIFFERENTIATED rhythm sets to meet the needs of kindergarten through eighth grade. Some creative teachers have even used them with band and orchestra students. These versatile printables may also be used for melodic composition.
Click to preview and learn more.
DIGITAL Drag and Drop Composition Activities
Composition templates may be PAPERLESS, digital activities as well. And, they may be structured so that even your young students who do not yet have knowledge of music symbols can be successful.
Take a look at these Farm Animal Drag & Drop Templates using ICONS. Iconic notation allows even early elementary children to be successful in creating their own music. If your students are ready to use STANDARD MUSIC NOTATION, a standard set is available as well.
Sequential Differentiated Composition Series
The various forms that composition templates may take are limitless. I LOVE using my duplo-style rhythm blocks, but, I never had enough blocks for my entire classroom. So, I created these DIGITAL Drag & Drop Rhythm Blocks sets.
This composition bundle includes a series of four separate DIFFERENTIATED sets using different rhythms. Each resource includes four separate compositions focusing on different elements of music.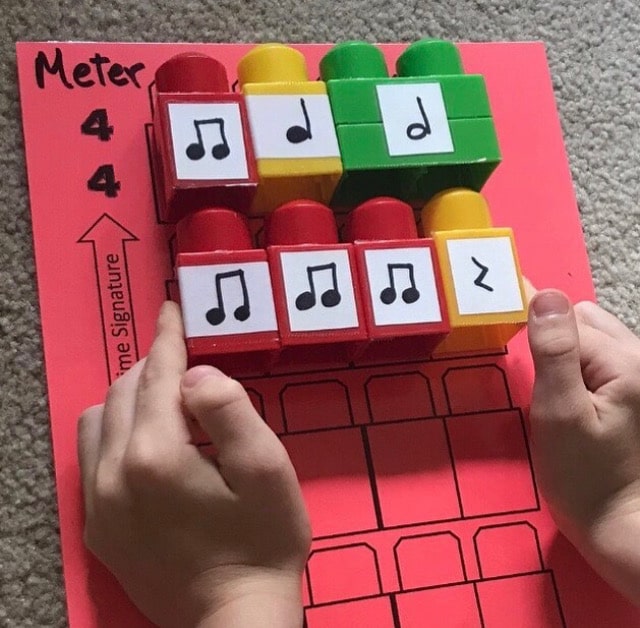 Composition 1 – Note values and meter
Composition 2 – Form
Composition 3 – Matching lyrics to rhythms
Composition 4 – Final project pulling all elements together
Click below to see a video of each set in action. (Video link is in the description.)
These Composition Templates are also available as PowerPoint Versions.
Boom Cards for Music Literacy
Many music teachers have recently "discovered" Boom Cards for the first time. Others are rediscovering and finding new benefits of Music Literacy sets. Boom Cards definitely have a place in helping students to develop their music literacy skills. Boom Cards are simple to use, they are effective, and they are FUN!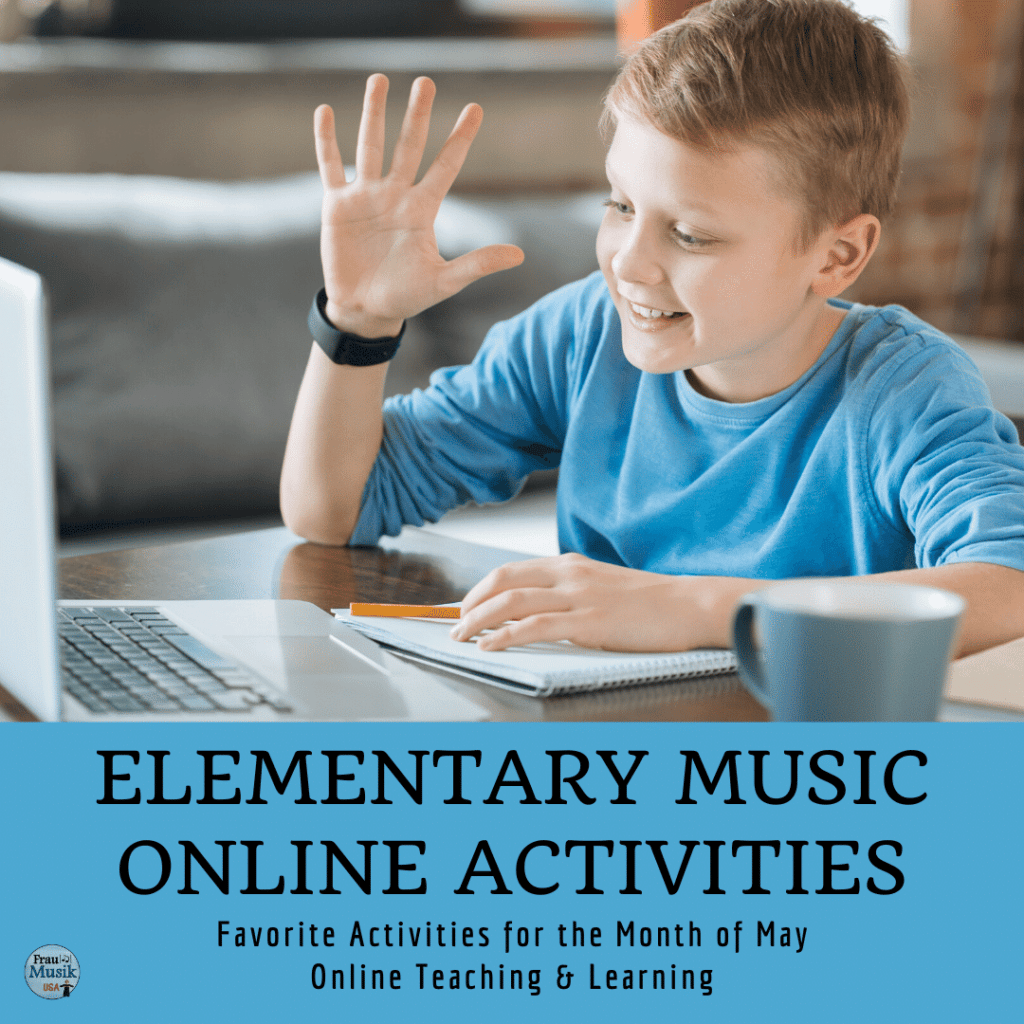 Advantages of Using Boom Cards
Boom Cards are SELF-CHECKING and give students IMMEDIATE FEEDBACK.
Sets may be designed as a SEQUENTIAL series that builds one upon another.
Teachers can DIFFERENTIATE by assigning different sets of cards to different students. Or, teachers can simply allow students to work through a series of cards at their own pace.
Students may REPEAT and PRACTICE the same set of cards multiple times to improve their performance. All of my cards are set to "randomize" so the order changes every time.
Note: All of our Boom Cards are set to "randomize" so the order changes every time.
Need Help Getting Started?
If you are new to Boom Cards, click to see the following blog posts. Using Boom Card is easy, I promise. But, like anything, there are a few tips you need to know to get started efficiently.
Sequential Boom Cards Music Literacy Series
Each of these bundles includes sequential decks that you may use for MULTIPLE GRADE LEVELS or for DIFFERENTIATION within grade levels. Click to preview the series that best meets the current needs of your classes.
Keep Learning Simple and Stay on Track
Teachers, students, and parents all around the world have been struggling to get back on track and stay focused during a lingering pandemic. Look back through this post and browse through these straightforward elementary music activities and determine if any are right for your students.
It is your job to simplify learning and help your students be productive. That's what teachers do. We also bring joy, compassion, and grace into the classroom, no matter what our teaching situations.
Best wishes, friends!
---
Will You Be Teaching Summer School?
Meet the Author
Terri Lloyd is a retired elementary music teacher with over 25 years of experience. She holds a Bachelor of Music, a Master of Science in Education, and a Technology Certificate in Instructional Design.
She is currently active in music education through blogging, workshops, and curriculum development. She also serves on the music staff at her church and volunteers for an after-school children's program. Terri is an active musician in the community, performing in a local Big Band, pit orchestras, and various events.
Pin for Later Reference