You may think that TumbleBooks are solely for the elementary general classroom. But, they have quite a few GREAT TumbleBooks for elementary music as well. And, TumbleBooks are an even more valuable resource for online teaching.
First, what are TumbleBooks? TumbleBooks is an online database of e-books for children in grades K-6. Elementary schools and public libraries around the world have subscriptions. Your school may already have a subscription.
The TumbleBook library currently has over 1,110 books. These include picture books, chapter books, graphic novels, National Geographic videos, playlists, puzzles and games, and more. Books are cross-referenced by Lexiles and Accelerated Reader levels. Their library includes both fiction and nonfiction selections. Some books are available in Spanish and French as well.
How Do I Access TumbleBooks?
Ask your school librarian if your school already has a subscription. Subscriptions are school-wide, not by individual teachers.
TumbleBooks is currently offering FREE trial subscriptions through August 31, due to COVID-19 school closures. Forward this post to your librarian or principal and ask them to Click here to Create One FREE Trial per School. Teachers and students will need a username and password to access the site. The username and password set up by our school district are SUPER SIMPLE. That is important in order to make it easy for students (and teachers) to access the site. No one wants another complicated UN and PW to remember.
The following is directly from TumbleBooks website.
"Subscriptions are affordable and EASY to use, and include tools to simplify your kids' access from home as well as from your building. There are no check-out times or wait lists: the books are always available, to everyone in your institution!"
TumbleBooks Provides Teacher Resources & Differentiation for Students
TumbleBooks provides many options for each book as well. Students may have books read to them in a video format as the words are highlighted. The platform also includes lesson plans built around the books, quizzes, book reports, and more. TumbleBooks even has SING-ALONG BOOKS!
TumbleBooks for Elementary Music | Favorite Storybooks
TumbleBooks includes some fabulous storybooks for the elementary music classroom. And, they are perfect for music sub lessons too. While there are not a ton of music titles available yet, they do represent various genres and styles. And, they include quality children's literature.
I recommend the following titles which are currently available in the TumbleBook Library.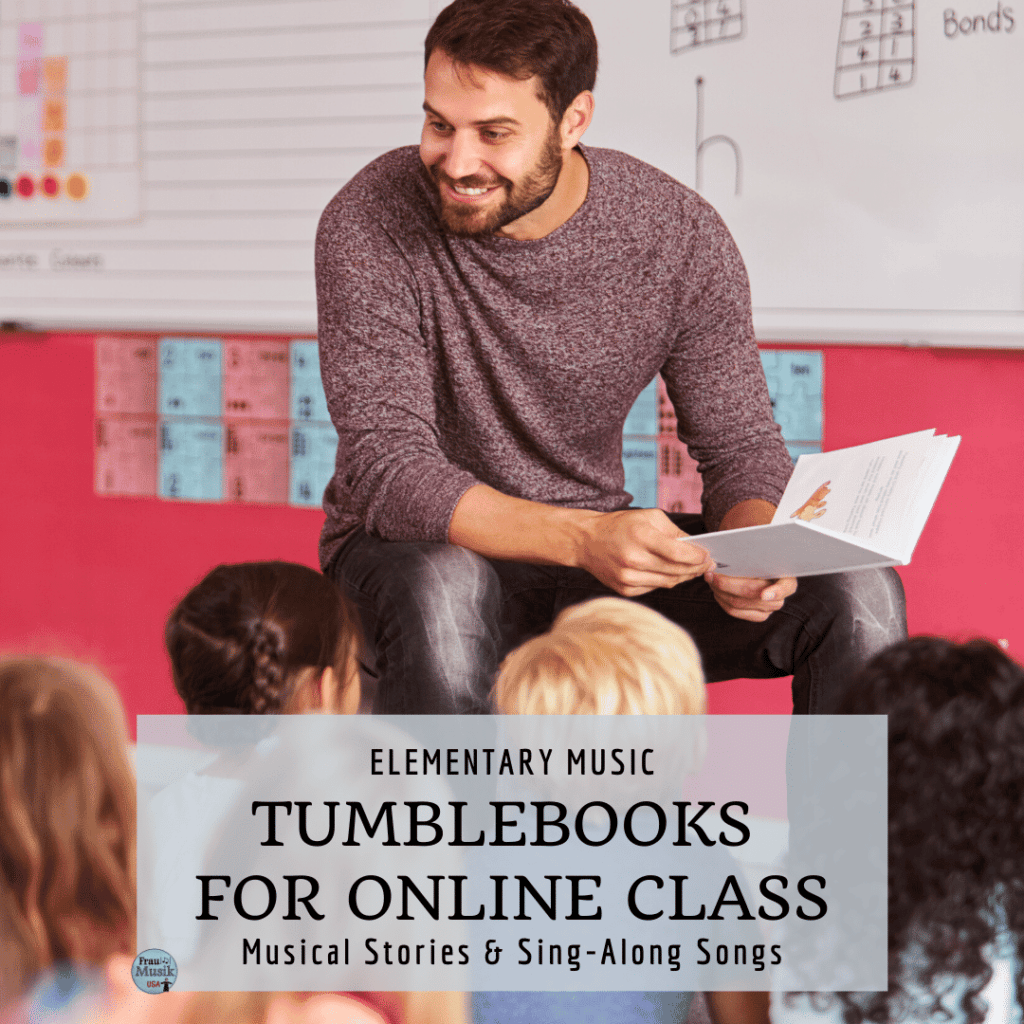 Dance of the Violin, Kathy Stinson – a Joshua Bell story
The Man with the Violin, a Joshua Bell story
When Louis Armstrong Taught Me Scat, Muriel Harris Weinstein
Once Upon a Breath, Aaron Zevy – This is the story of the Big Bad Wolf but with quite a jazzy twist!
The Best Mariachi in the World, J.D. Smith
Oscar Lives Next Door, by Bonnie Farmer
Pecorino's First Concert, Alan Madison
Song of Middle C, Allison McGhee
The First Music, Dylan Pritchett
Frank Was a Monster Who Wanted to Dance, Keith Graves
TumbleBooks for Elementary Music | Sing-Along Books
The following sing-along books are currently available in the TumbleBooks Library. Once again, there are not a multitude of songs available yet, but the songs currently available are standard folk songs that would be a valuable addition to children's repertoire.
Aiken Drum
The Ants Go Marching
Apples & Bananas
BINGO
Down by the Bay
If I had a Hammer
If You're Happy and You Know It
Itsy Bitsy Spider
I've Been Working on the Railroad
Mary Had a Little Lamb
She'll Be Comin' 'Round the Mountain
Sing a Song of Sixpence
The More We Get Together
This Old Man
The Wheels on the Bus
Conclusion
If you are not familiar with TumbleBooks, now is the time to check them out! With their free trial, it is a no-lose proposition. Their low-cost yearly subscriptions will probably make this a valuable resource for your school for years to come. I know that you and your students will enjoy and benefit from these TumbleBooks for elementary music classes.
If you are struggling with teaching music online, click to read the posts below.
---