17 Inspiring Picture Books for Music Teachers (Vooks – Video Storybooks)
These video picture books for the music classroom will hook your elementary students and transport them to a magical musical world. Best of all, they're free.
Music and books have the power to transport us to magical worlds, evoke emotions, and ignite our imagination. In the elementary music classroom, teachers are constantly looking for innovative ways to engage and inspire their young students. By incorporating quality storybooks into music lessons, you can create captivating learning experiences that nurture creativity and foster a lifelong love for music.
Today with all of the free "Vooks" available online, it couldn't be simpler to build your storybook repertoire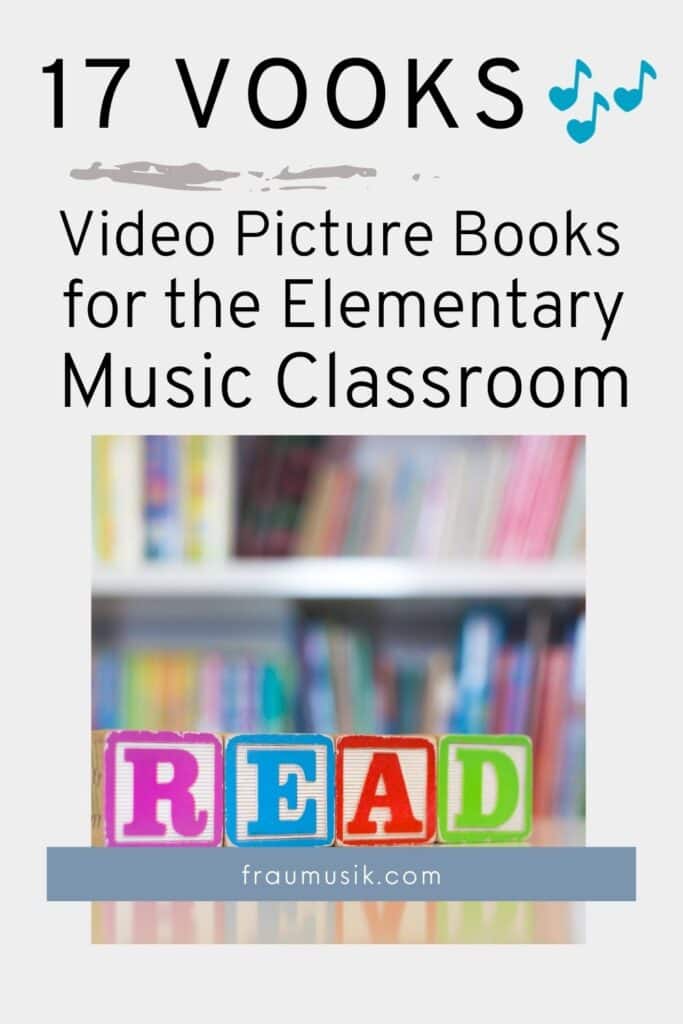 Music Picture Books Encourage Active Participation
Engaging students actively in the learning process is key to fostering a love of learning and a love of music. Children's storybooks provide many opportunities for students to actively participate. Music teachers may lead students through role-playing, sound exploration, or creating simple sound effects using percussion instruments or "found instruments." By involving students in the storytelling process, they become active contributors, developing their musical and creative skills, and best of all having fun.
Use the video picture books below as a starting point. Then, create your own musical masterpieces.
Music Sub Lessons are Easy with Video Storybooks
It is so hard to create simple and effective emergency sub lessons. Many subs do not read music and cannot implement your regular lesson plans. Download this Elementary Music Classroom Viewing Chart to track which videos your students have seen.
Bookmark and insert the link to this post in your emergency sub plans.
Download and print the chart below to keep track of which classes have viewed which video stories.
Write in the abbreviation for each class in the top gray row, i.e, 1-A,1-B, etc.
Many of these storybooks are best suited for either the early elementary or the upper elementary grades. If desired, shade in the boxes for the grades you do NOT want a sub to use a specific video with. Place the chart in your sub folder.
Easy Peasy!
What's in this post? Click to open the Table of Contents
Children's Picture Books Focus on Instruments
My Family Plays Music, by Judy Cox
This captivating storybook is read by Berkeley Symphony Music Director and Conductor Joseph Young, accompanied by Emanuela Nikiforova on violin, Isaac Pastor-Chermak on cello, Jeannie Psomas on clarinet, Peter Wahrhaftig on tuba, and Ward Spangler on percussion.
This relatable story will inspire your students while highlighting various musical genres and the power of diversity, creativity, and collaboration. Even the family dog plays music!
Because, by Mo Willems featuring the viola
The main character in this book is a young girl who gets an unexpected chance to attend a symphony concert that "changes" her forever. This picture book highlights both the onstage and offstage teamwork required to present a concert.
The story is read by Amy Haroldson and features Kenji Bunch, Viola from the Oregon Symphony
Peter Pajamas, by Andy Rangell, with music by JS Bach
This story, illustrations, narration, musical selection, and piano performance were all created by the multitalented Andy Rangell and produced by Steinway & Sons. The thoughtful piano accompaniment provides an ideal underscore for the story.
Enjoy the story of Peter, his dog, and Peter's blue pajamas.
Zin! Zin! Zin! a Violin, by Lloyd Moss
This 1996 Caldecott Honor Book is still a staple in the elementary music classroom. Zin, Zin Zin introduces your early elementary students to the main instruments of the orchestras and various chamber music ensembles.
Thank you to Grandma Annii for posting this quality video picture book for the elementary music classroom.
Froggy Plays in the Band, by Jonathan London, featuring the tuba
Froggy and his pals are sure they can win the big prize in the Apple Blossom Parade, even though they haven't been playing together very long. The tuba is the perfect instrument to accompany this musical storybook for your early elementary students.
Thank you to the Oregon Symphony Storytime for posting this engaging story. Read by Amy Haroldson and featuring JáTtik Clark, principal tuba.
Family Dynamics, by Courtney Vowell Woodward
This charming story is about a curious little violin who is trying to find her sound. Every day she hears beautiful sounds but she is not sure where they are coming from. Your early elementary students will enjoy joining Violin on her musical adventure.
This story posted by The Educated Elephant Learning Channel teaches the main instruments of the orchestra and their families.
Silly Just for Fun Music Storybooks
Never Play Music Right Next to the Zoo, by John Lithgow
In this lively picture book, a concert near a zoo takes an unexpected turn as mischievous animals join in on the musical fun.
This version shared by the Arizona Opera has a delightful underscore! Take a peek at their Musical Storytime Series. Each book in this series includes both English and Spanish versions of each story.
Pete the Cat, I Love My White Shoes, featuring the Bassoon
This engaging picture book by Eric Litwin and illustrated by James Dean is a perfect read-aloud, encouraging active participation as your early elementary students join in. Spark the joy of reading and music with this video version by the Oregon Symphony Storytime,
This version is read by Amy Haroldson and features Carin Miller Packwood, the principal bassoon of the Oregon Symphony.
Children's Picture Books About Musicians
Dancing Hands, by Margarita Engle, illustrated by Rafael López
Dancing Hands: How Teresa Carreño Played the Piano for President Lincoln is a beautifully illustrated picture book that tells the story of Teresa Carreño, a Venezuelan girl who loved to play the piano. Despite facing many obstacles, including war and poverty, Teresa's love for music and her dedication to practice helped her become a world-renowned pianist.
This storybook is perfect for introducing classical music and fostering discussions about resilience and the power of music in the upper elementary music classroom.
More Children's Picture Books About Musicians
Coming Soon – Jazz Storybooks featuring the pioneers of jazz.
Storybooks to Motivate and Inspire
Violet's Music, by Angela Johnson
Music is Violet's greatest passion and she cherishes every opportunity to play and sing. However, she has trouble finding others who share her deep love and connection with music. This book celebrates those who march to the beat of their own drum. It reminds us that true friends who share our interests are waiting to be found.
This musical storybook is a part of the Coos Bay Public Library STEAM Storytime series and it's perfect for your early elementary students. At the end of the story, the library personnel demonstrates how to make several simple homemade instruments.
Giraffes Can't Dance, by Giles Andreae
Gerald, the giraffe struggles to dance. Despite his best efforts, his long legs trip him up every time he tries to boogie. The yearly "Great Jungle Dance" fills him with dread until one night when he discovers his own unique music.
Thank you to vancemo who posted this storybook set to a fun, catchy tune and accompanied by ukulele.
The Music in Me, by Jane Pinczuk
This energetic book with illustrations by Brad Davies and forward by Bobby McFerrin is a part of Jane Pinczuk's Rap-on-Reading Book Series. It will captivate and inspire your upper elementary students as they join Sam on his journey to find his own way to make music.
Thank you to KEEMAA for posting this story of perseverance and ultimately success.
The Bear and the Piano, by David Litchfield
The self-taught, piano-playing bear goes on an incredible journey to New York, where he becomes a huge star. Even though he has fame and fortune, Bear misses the friends and family he has left behind. Your early and mid-elementary students will enjoy his best-selling music picture book which won the 2016 Waterstones Children's Book Prize.
Thank you to Annie's Workshop for posting this award-winning book.
What a Wonderful World, Illustrations by Tim Hopgood
First recorded in 1967 by Louis Armstrong, What a Wonderful World has become a positive message of hope for people everywhere. This music picture book is sure to be a hit with all of your K-5 students.
Thanks to Music with Mrs. Gibbs for posting and sharing this quality video storybook.
Classical Music
Allegro: A Magical Journey Through 11 Musical Masterpieces
Allegro is an ordinary boy who doesn't like to practice the piano until the music whisks him away on a breathtaking journey through some of the most popular Classical Masterpieces. This is a perfect way to introduce your kindergarten – grade 3 students to this genre.
Thank you to STEMHAX for posting and sharing this quality Vook storybook.
Pet of the Met, by Lydia and Don Freeman
This charming story is a fun way to introduce opera to your grade 3-5 students. This version shared by the Arizona Opera has a delightful underscore! They also provide Spanish versions of each book in their Musical Storytime Series.
The Other Side of Town, written and illustrated by John Agee
Paired with Gershwin's Rhapsody in Blue, your upper elementary students will LOVE this zany story by John Agee. Ride along as a cab driver picks up a guy in a goofy suit in the middle of busy New York City The rider wants to go to the other side of town, but it turns out the other side of town is a peculiar world where things look very familiar but are completely different.
If you have not heard of this musical book series yet, be sure to bookmark Cross Bay Public Library Symphonic Storytime Series. It's an unfound gem for elementary music storybooks.
Ignite Your Students' Imagination with Music Picture Books
It's simple, it engages and hooks your students, and it's free! Use musical storybooks to transport your students to the magical world of music and create learning experiences that foster a lifelong love for music and books.
💡 Share This Post
Take a second to share this post and help other elementary music teachers find it. 😊
More About Using Storybooks in Elementary Music