How to Develop and Assess Music Reading Skills with Boom Cards
Music Literacy Boom Cards are a valuable addition to your music lesson plans providing FUN authentic assessment of music reading skills.
Some of the links on our site are affiliate links. If you click on a link and make a purchase, we may earn a small commission.
Can Boom Cards teach and reinforce real music reading skills?
Absolutely! There are several series of Music Literacy Boom Cards designed to help teachers develop students' genuine music reading skills. These sets follow a methodical approach, much like instrumental method books.
Since our bundles are sequential and each set builds upon the last, many of these activities can extend beyond elementary school and into middle and high school. Many are even helpful for adult beginners.
Boom Cards are perfect for the music classroom, private studio, or homeschool. They are self-checking and provide students with instant feedback. Boom Cards are an important addition to a well-rounded music program.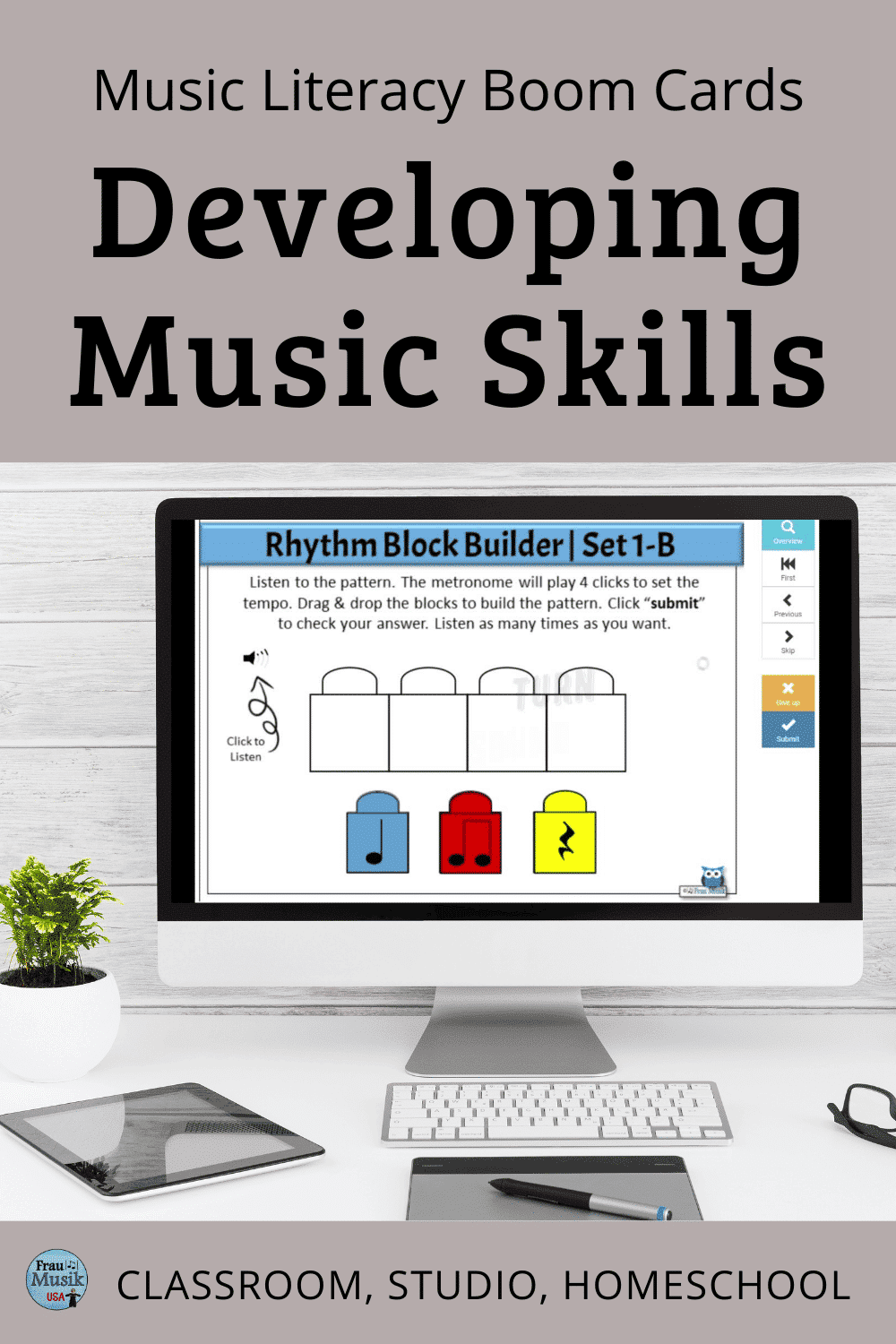 What's in this post? Click to open the Table of Contents
Develop a Well-Rounded Music Literacy Program
that Includes a Variety of Fun Activities
Sequential Steps to Develop Independent Music Readers
Taking an eclectic approach to music education provides a solid foundation for students. By blending various teaching methods, styles, and resources, students develop solid music reading and performance skills.
This diversity not only keeps lessons engaging but also accommodates different learning styles. This makes it more likely students will grasp and retain music reading skills. Build a strong musical "toolbox" that equips students with versatile skills and a deeper understanding of music, ultimately enhancing their overall musical development.
Introduce music elements with simple songs and games.
Step 1: Teach Song-Based Music Literacy Activities and Games
Use simple songs and games to introduce one specific music element at a time and provide adequate repetition.
Practice each song-based activity consecutively during at least three lessons.
Use at least three different song-based activities to reinforce students' understanding.
The Kodály Method identifies a pathway to teach young children to read music. It provides a song-based model which may be adapted to meet the needs of any elementary music classroom.
See this post with Fun Sequential Elementary Music Lessons to Develop Music Reading Skills for tips on how to sequence and introduce various elements of music through song-based activities and games.
You can develop independent music readers in the elementary grades by using the sequence below.
Step 2: Reinforce Melodic Skills with Solfege Warm Ups
Use your targeted music elements as short, simple warm-up patterns. As with standard warm ups, modulate through several keys matching the range of your students. This is an optional but helpful step.
See this post for tips and techniques to Teach Music Literacy Skills Using Vocal Solfege Warm Ups and learn more about using warm ups as an integral element of your music reading strategy.
Step 3: Cement Learning with Music Dictation Boom Cards
Once your students have been introduced to each specific musical element, Boom Cards can play a crucial role in the further development of their independent music reading skills. Drag-and-drop structured rhythmic and melodic dictation are perfect for the next step.
Self-checking Boom Cards give students immediate feedback and allow them to correct their mistakes by listening again and making the necessary changes. The game-like atmosphere makes music dictation engaging, even for reluctant students. They have the freedom to replay each set multiple times, and they're motivated to improve their scores.
Don't Let Your Students Skip this Critical Step
When your students make a mistake, require them to listen again and fix it. Making mistakes is part of learning. This is an important step to develop solid music reading skills.
Step 4: Assess learning with Music Pattern Identification
Once students have demonstrated proficiency in a Music Dictation Set, they will find the corresponding Rhythmic Pattern Identification or Melodic Pattern Identification simple. Using Boom Cards for evaluation not only makes assessments enjoyable but also helps to build student confidence in their music reading skills.
Music Pattern Identification sets may be used as online assessments or observational assessments. See these Innovative Ways to Use Boom Cards to learn more.
Steps 3 and 4 Boom Cards Sets are Interchangeable
I like to practice with Music Dictation Boom Cards and then use the Music Pattern Identification Boom Cards as assessments. However, you may prefer to do the opposite.
Dictation is more difficult than identifying a pattern. It's for this reason I choose to complete the sets in this order. When you practice with Dictation Sets, students are "uber-prepared" for a Music Pattern Identification assessment.
Another approach is to use the dictation sets for practice
and allow students to submit their best scores as an evaluation.
Boom Cards are a versatile tool, and there are many Innovative Ways to Use Boom Cards in your music classroom. This includes using Boom Cards with manipulatives, incorporating sign language or signals, setting them up as centers or stations, allowing students to practice at home, and more.
Step 5: Composition and Improvisation
Once students have mastered reading music elements in simple songs and a variety of settings, they're ready to use those patterns to improvise and create their own simple original compositions.
Explore the posts below for more information about improvisation and elementary music composition tips.
How Do I Get Start Using Boom Cards to Develop
and Assess My Students' Music Reading Skills?
Are You New to Boom Cards?
Do you need to see a set of Music Literacy Boom Cards in action before you go any further? Take a peek at this post – How to Get Started Using Boom Cards in Elementary Music. You'll be hooked. Then, come back and create your plan to develop your students' music reading levels.
P.S. Boom Cards aren't only for the elementary grades.
What Order Should I Teach Music Boom Cards?
Initially, it may be a little difficult to know where to start. But, our Music Literacy Boom Cards are SEQUENTIAL and FLEXIBLE. They're designed to "meet your students where they are".
Start at a level where you expect all or most of your students to be successful. Remember, the first time you teach a new activity you also need to teach how to use the technology (which your students will catch onto right away). You want your students to have a positive experience and enjoy the process.
Take a peek at the suggested progression and each sequential series below. Then do a quick informal observational assessment to determine where your students should start in this sequence. Students may repeat sets when needed.
Answer These Questions First
Boom Cards may be used MANY different ways to develop and assess students' music literacy levels. Your approach will depend on several factors.
How old are your students?
What are your students' current music reading levels?
Are you a 1:1 school with every student having their own device?
Are you planning on using Boom Cards as centers or stations?
Do you want to use Boom Cards to deliver whole class lessons?
Will you assign Boom Cards as activities to be completed outside of class?
Sequential Music Literacy Boom Cards Bundles allow for simple differentiation.
Assign different sets to different students
Assign a series of sets to all students and allow students to work at their own pace. This is a good way to challenge students who may be taking private lessons.
We have outlined different paths for various grade levels and abilities.
Suggested Boom Cards Sequence
Beginning Music Readers – Lay the foundation for your beginning musicians with the following simple sets.
Targeted Music Elements – Each bundle below includes a sequential progression of 7-8 sets. The Primer Set in each bundle is free.
Click on each bundle and choose the set(s) that match the music elements your students are learning.
Note Names – Integrate Treble Clef and Bass Clef Note Names as they fit into your established curriculum.
*As mentioned earlier, you may decide to teach the Music Dictation sets first and then the Music Pattern Identification sets or vice versa.
🎶 A Note About Various Keys
The order in which you present the different keys of Melodic Boom Cards sets will vary according to the level of your students. If your young students are not yet reading ledger lines, begin with the Key of F, then the Key of G. Teach the Key of C sets when students are ready to read ledger lines.
When you teach movable Do, you help to prepare students for middle and high school music programs and beyond. Create life-long musicians.
Your Action Step – Take Your Favorite Free Set for a "Test Drive"
Take a minute and scan these Free Music Literacy Boom Cards. Which of these activities would best meet the needs of your students right now?
Download a FREE set from TpT.
Follow the simple directions to set up a FREE account at BoomLearning.com.
"Play" through the set yourself.
Give Boom Cards a test drive with your students.
If your school is not currently in session, try them out with your children or friends. You'll be glad you did.
Digital Tools Can Build Music Reading Skills

Education has entered a new era, and it's our responsibility as teachers to not only keep up with technology but also to enhance and pioneer new methods of teaching and learning. Music Literacy Boom Cards can serve as important tools for a well-rounded music literacy program, helping us adapt to this evolving educational landscape.
Boom Cards are more than just games; they're valuable tools that effectively teach genuine music reading skills.
---
Save BIG When You Invest in the Boom Cards Mega Bundle
All 81 decks of our sequential bundles are included in this Boom Cards Mega Bundle. And, you will save over 35% when you invest in these versatile resources as a bundle.
Need help getting started? Take a peek at our Boom Cards Video Tutorials designed especially for music teachers.
Bonus: Our Melodic Dictation Sets Match Boomwhackers!
Boomwhackers are incredibly versatile and always a hit with kids. Plus, they are budget-friendly. I bought 4 classroom sets but only added the octavator caps on 2 of those sets.
Octavator caps lower the pitch of the tube by one octave which allows you to have 2 full octaves of notes. But, they are VERY hard to get off once you put them on. My recommendation is to leave them on.
Note: Since Boomwhackers are set in the Key of C, the function of the notes will be different in different keys, (in the key of F, F=Do, etc.).
Everything You Need to Know About Using Music Boom Cards
Meet the Author
Terri Lloyd is a former elementary music teacher with over 25 years of experience. She holds a Bachelor of Music, a Master of Science in Education, and a Technology Certificate in Instructional Design.
She is currently active in music education through blogging, workshops, and curriculum development. She serves on the music staff at her church and volunteers for an after-school children's program. Terri is an active musician in the community, performing in a local Big Band, pit orchestras, and various events.