Celebrate School Music Month – March Activities 2023
It's time to celebrate school music month! Publicize the learning activities in your music classroom. Real learning is happening here.
March is the time to celebrate School Music Month! Of course, we are celebrating music in our schools all year long. But in March music gets a little more emphasis. This is also a good time to talk about music advocacy.
If you are struggling to develop support for your music program, check out this 3-part series. It includes actionable steps to help increase support from parents, other teachers, administrators, and students themselves.
March Holidays and Observances
March 1 – World Compliment Day/Peanut Butter Lovers Day
March 2 – Read Across America Day
March 3 – National Anthem Day
March 4 – Marching Band Day (March Forth Band Friends!)
March 8 – International Women's Day
March 12 – Girl Scout Day
March 14 – National Pi Day – 3.14
March 16 – National Panda Day
March 17 – St. Patrick's Day
March 20 – Spring (Vernal) Equinox
March 21 – World Poetry Day
March 26 – Wear a Hat Day
March 30 – Opening Day of Baseball – Take Me Out to the Ball Game
March 31 – National Crayon Day
Monthly Observances
Music in Our Schools Month
Irish American Month
National Women's History Month
National Nutrition Month
National Craft Month
It's Music in Our Schools Month
Grab a few rhythm instruments and join F Willis Music in this simple Music In Our Schools Month Chant.
M-U-S-I-C! It's music in our schools month, with NAfME.
M-U-S-I-C! Won't ya grab something and jam with me!
National Anthem Day – March 3
The United States Navy recognized "The Star-Spangled Banner" as our national anthem as far back as 1889. However, it was not until March 3, 1931, when President Herbert Hoover signed a law that made it official.
This is why we celebrate National Anthem Day every year on March 3. Depending on the grade level, this might be the day to sing all four verses.
The History of the Star Spangled Banner
The short video below shows a simple and succinct history of our national anthem. It was created by Teen Kids News and filmed on the grounds of Fort McHenry.
Storybook
There are many different storybooks that depict the history of The Star-Spangled Banner. This picture book by Peter Spier is perfect for the upper elementary music classroom. It makes teaching the history of our national anthem simple for teachers and memorable for students.
Check with your school and public libraries to see what books they have available.
St. Patrick's Day Activities
Irish Folk Song
March is a great time to teach Irish folk songs. Many Irish songs are in a meter of 6/8 and some can have complicated rhythm patterns. The simple patterns in "There's a Big Ship Sailing" make it the perfect song to introduce and practice reading 6/8 meter.
This version includes differentiated Orff accompaniments for grades 2-5. The simple rhythm patterns make for successful music reading lessons, even for first-time readers of 6/8 meter.
Click to preview this no-prep, ready-to-use resource.

Rhythm Activities
Interactive rhythm flashcards with a St. Patrick's Day theme are fun to use during the whole month. If you need ideas for fun and engaging ways to use rhythm flashcards, check out this helpful post – 10 Ways to Use Interactive Flashcards.
These St. Patrick's themed rhythm card includes 8 sequential sets of leveled flashcards. My favorite is the iconic reading for your youngest musicians. But, your more accomplished musicians will be challenged by 16th note patterns, syncopation, and dotted rhythms.
Consider adding lyrics to a few of the patterns and creating an Orff-style speech piece to celebrate school music month.
Just for Fun | Free Printable/Digital Puzzle
Do you just need something simple and quick to acknowledge St. Patrick's Day? This FREE Irish Word Search introduces traditional Irish musical instruments and styles. Just download, print, and go.
Or, use the DIGITAL VERSION. This puzzle is ready to assign by using a link sent through Google Classroom or your school's LMS. It may be completed online using Easel, TpT's Digital Tool.
Both the puzzle and the Easel are FREE to use.
Treble Clef Note Names
At this time of year, many teachers are preparing to begin recorder units. Often, a review of treble clef note names is necessary to ensure a good start. If you need some fresh treble clef note name activities check out these below.
Treble Clef Note Names Boom Cards
Boom online task cards are a FUN and EFFECTIVE way to practice and review. Boom Cards give students get immediate feedback and can be used as assessments as well. They work great for centers, group practice, or 1:1 devices.
If you have never used Boom Cards before, getting started may seem a little daunting. I promise you, it is NOT hard. If you would like to see a set of Boom Cards in action or simply learn more ways to use them in your classroom, click on the links below.
Boom Learning allows you to to play a preview of the first four cards of each set of Treble Clef Boom Cards. (Scroll down to see each deck.)
Boom Cards are available to purchase directly on Boom Learning or through TpT. Click here to view these Treble Clef sets on TpT. Scroll down to see the decks that will work best for your students.
Treble Clef Note Names PowerPoint Interactive Games
If you do not have online access, or simply want a different way to practice, these PowerPoint versions also give students immediate feedback and once downloaded, do not require an internet connection. Download this FREE set today to sample the game with your students.
Click the images below to preview each set.
*NOTE: You must have PowerPoint to use these interactive presentations. Google Slides does NOT yet have the same level of interactivity.
Music Composition
As we approach the fourth quarter of the year, I begin to think in terms of culminating projects. These are projects that pull together elements learned throughout the school year. Music composition is one of those projects.
Music composition can be very tricky for young children. You can greatly increase student success by using templates such as these "drag and drop" composition resources. The drag-and-drop feature also makes the project more fun. "Erasing" and modifying their work becomes easy for students!
Each set includes 4-DAY EXPANDABLE LESSONS where students create four different compositions focusing on different elements of music.
Composition 1 – Note values and meter
Composition 2 – Form
Composition 3 – Matching lyrics to rhythms
Composition 4 – Final project pulling all elements together
These activities are available in either Google Slides or PowerPoint versions. Click each resource to preview.
Need to differentiate activities for multiple grade levels or within classes? Save with the Google Slides Composition Bundle which includes all 4 sets.
Need ready-to-assign PowerPoint versions? Click here to see the PowerPoint Composition Bundle.
Printable Composition Blocks
Using printable, worksheet-style activities does not mean boring – far from it! This building block format with manipulative music note blocks makes music composition simple and fun.
The blocks are perfectly sized to fit the templates. Students select the notes they want to use and arrange them as they choose. When they are satisfied with their composition, they glue it down.
Four different templates with nine differentiated sets of rhythms make these composition activities perfect for grades K-5. Download this FREE Color, Cut, Compose Primer and try it out with your early elementary students.
See How to Use Music Composition Templates for more tips and activities.
Celebrate School Music Month Toot Your Own Horn
There are many different ways to celebrate and acknowledge school music month. No matter how you choose to celebrate, take a little time to publicize the learning activities that are happening in your elementary music classroom.
Real learning is happening here.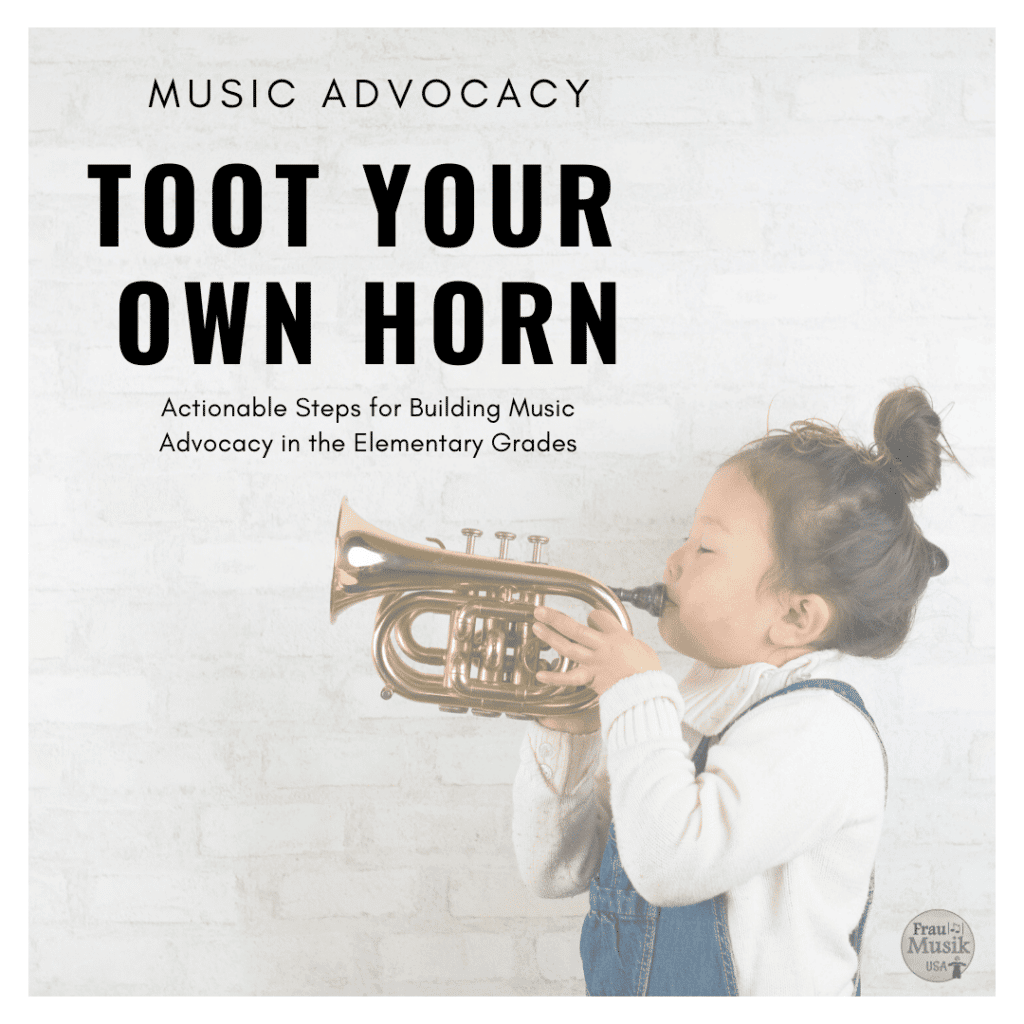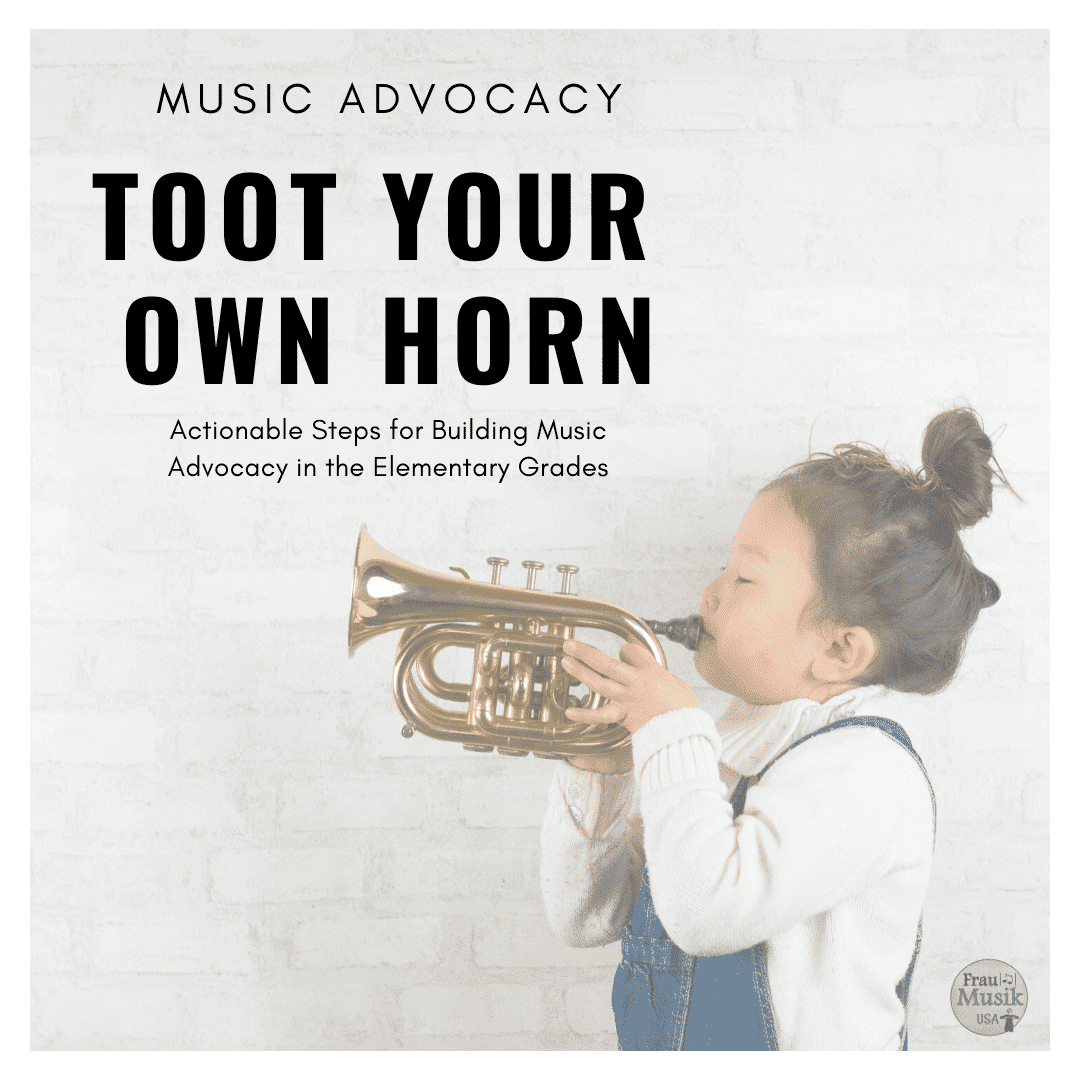 ---
Planning Ahead? Need Some More Ideas?
Pin for Later Reference