Free and Fun Treble Clef Note Name Games are Your Secret Ingredient
Treble clef note name games make learning fun! They provide challenge and motivation even for reluctant students. Give these FREE sets a try.
Some of the links on our site are affiliate links. If you click on a link and make a purchase, we may earn a small commission.
Are you looking for ways to hook your reluctant students? Fun and challenging games are your secret ingredient. And, Quizlet makes learning fun! These free treble clef note name games will actively engage students and provide challenges and incentives for them to improve their skills.
FREE and NO-PREP are the secret ingredients for teachers. This post includes links to six sequential games which are scaffolded to help elementary music students be successful and have fun while learning treble clef note names.
What's in this post? Click to open the Table of Contents
Quizlet Provides a Variety of Learning Games
Each treble clef note set may be used in all of the different modes. With a variety of modes and games, Quizlet keeps practice fresh and allows plenty of practice for students.
Flashcards
Learn
Test
Match
Quizlet no longer has the Gravity game which my students loved. But students have just as much fun and create the same friendly competition with the Match mode.
Quizlet allows you to use the first several cards without a login. But, they do require teachers to create a FREE account to play and assign students an entire set of cards.
You can create an account at Quizlet.com. (This is NOT an affiliate link. Quizlet is just a good educational tool.)
Start in Flashcards Mode
Begin with the treble clef FLASHCARDS first because Flashcards are NOT timed. Students can work and learn at their own pace. Students could become frustrated if they're not yet ready for timed activities. Flashcards mode gives users the option to shuffle cards. I recommend you keep shuffle mode on.
After students are familiar with the notes in a particular set, they're ready to progress to the timed sets. The Matching game IS timed and it provides a real challenge. My students' favorite game is the Matching game.
Scaffold Learning
As you introduce treble clef note names it's important to teach lines and spaces separately and give students plenty of practice time to cement their learning. This scaffolding helps young musicians be much more successful. Once they have learned the notes in the spaces, you can introduce notes around the lines.
All of our note name resources introduce notes in this sequence.
Basic SPACES of the staff
Basic LINES of the staff
Basic LINES and SPACES combined
Extended SPACE notes
Extended LINE notes
Extended LINE and SPACE notes combined
Treble Clef Note Name Games | Basic Sets
The links to these BASIC sets are below. These sets include notes on the staff. Click to play and learn on Quizlet.
Once your students are secure and can name the notes of the lines and the notes of the spaces separately, they're ready to combine pitches into the same set.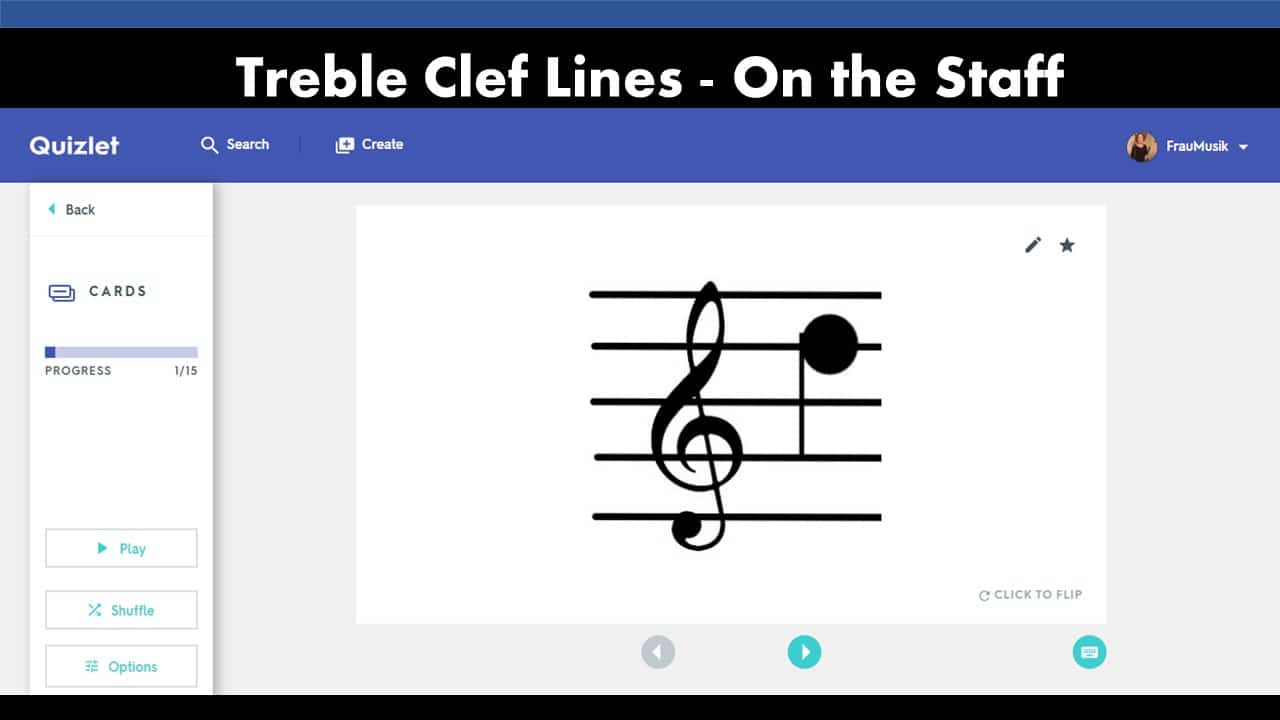 Treble Clef Note Name Games | Extended Sets
These EXTENDED sets include treble clef notes up to one ledger line above and one ledger line below the staff. These activities are still separated into two different sets of lines and spaces only.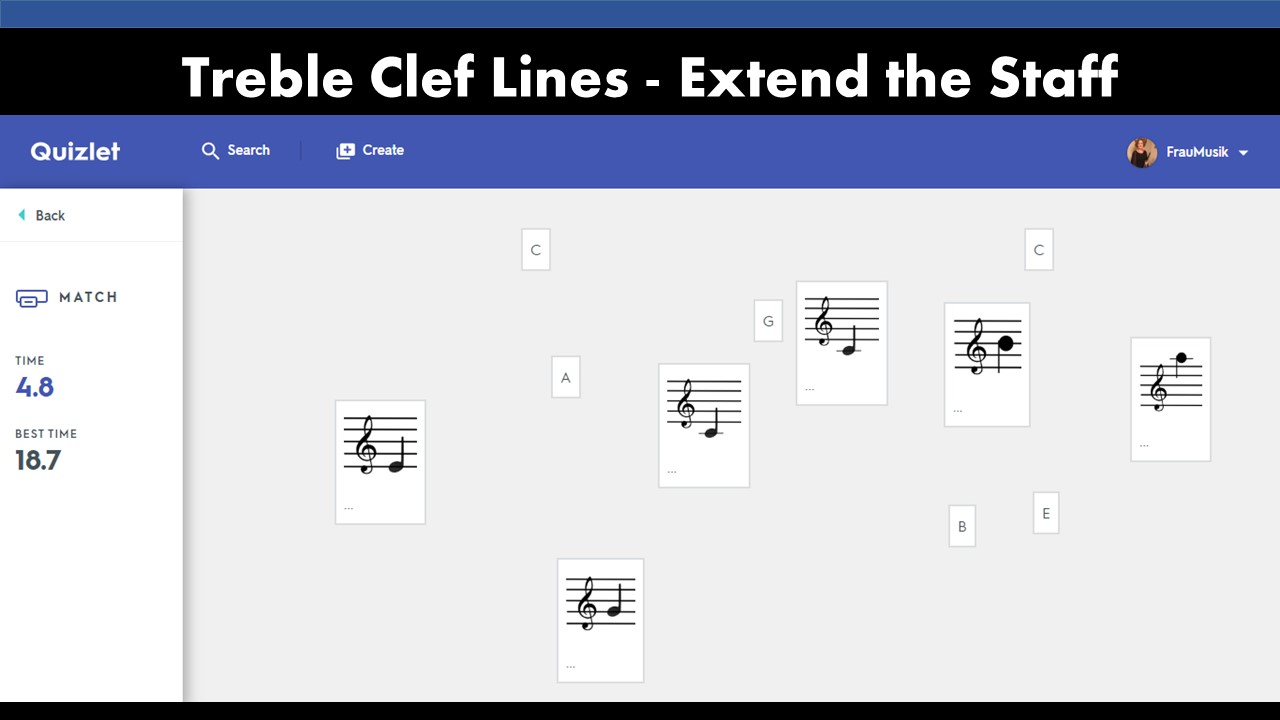 Quizlet Works with a Variety of Devices
Quizlet is compatible with most devices. This includes iPads, phones, computers, and Chromebooks. The matching game looks different depending on the device you use.
If you use a mobile device, the Matching game becomes a tap-and-match format.
Students enjoy the game-like atmosphere of the Matching game. And, we've created some friendly competitions in my elementary music classroom with this timed game
Important Notes About Using Quizlet
Quizlet allows you to play the first several cards without an account. You must create a FREE account to use full sets.
Choose full-screen mode in the bottom right-hand corner so you see the note first. If you're not in full-screen mode, the flashcards may show the answer first.
Tap the corner of the card to turn it over and reveal the answer. When you use the Flashcard mode, the note image will enlarge if you tap directly on the note
Quizlet is a Valuable Learning Tool to Hook Your Reluctant Students
Quizlet is an excellent free tool for learning musical note names. The variety Quizlet and other online tools provide helps increase novelty and keep students engaged. The friendly competition and motivation to improve their scores makes these free treble clef note name games your secret ingredient to hook even your reluctant students.
Enjoy!
---
Need More Fun Ways to Practice Treble Clef Note Names?
The bundles below are perfect for centers or stations, sub days, group activities, and more. Both of these sets follow the same sequential scaffolded pattern as the Quizlet activities above.
Click the resources below to see more.
Related Posts
Meet the Author
Terri Lloyd is a former elementary music teacher with over 25 years of experience. She holds a Bachelor of Music, a Master of Science in Education, and a Technology Certificate in Instructional Design.
She is currently active in music education through blogging, workshops, and curriculum development. She serves on the music staff at her church and volunteers for an after-school children's program. Terri is an active musician in the community, performing in a local Big Band, pit orchestras, and various events.
Pin to Save for Later