Quizlet makes learning FUN! And, fun is your secret ingredient, especially for your reluctant students. These free treble clef note name games will actively engage students and provide a challenge and incentives for them to improve their skills.
FREE and NO-PREP are the secret ingredients for teachers. This post includes links to six sequential games which are scaffolded to help elementary music students be successful and have fun while learning treble clef note names.
Quizlet Provides a Variety of Learning Games
With a variety of modes and games, Quizlet keeps practice fresh. Each treble clef note name set may be used in six different modes.
Flashcards
Learn
Write
Test
Match
Gravity
Quizlet also has a Spell mode. Obviously, the Spell mode doesn't make sense for learning treble clef notes names. But, all of the other games work well. My students' favorite games for learning the note names on treble clef staff are Matching and Gravity.
Begin by practicing each set of treble clef FLASHCARDS first. The flashcards activities are not timed. Students can work and learn at their own pace. The Matching and Gravity games are timed and they provide a real challenge. Students could become frustrated if they are not yet ready for timed activities.
Treble Clef Note Name Games | Lines & Spaces Separately
Start by teaching lines and spaces separately. These basic sets begin very simply for young musicians. Tap on links below to play and learn on Quizlet.
**IMPORTANT NOTE: Make sure to choose full-screen mode in the bottom right-hand corner so you see the note first. If you are not is full-screen mode, the flashcards may show the answer first.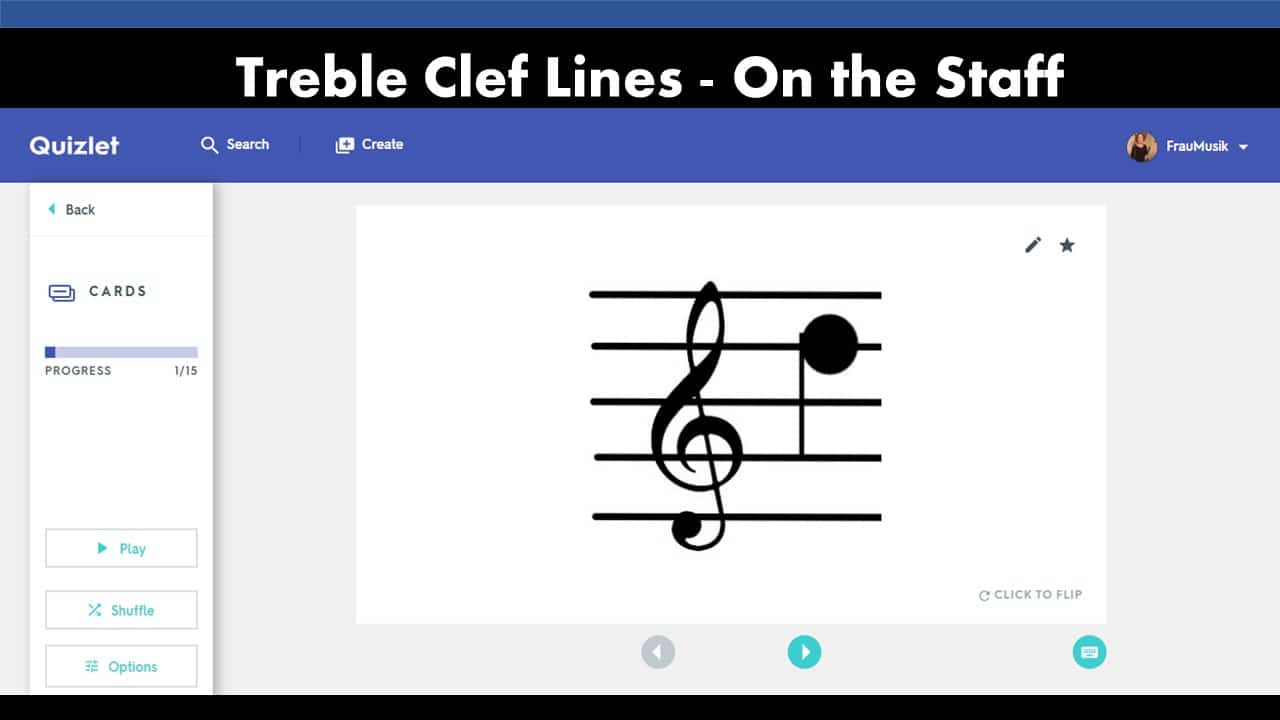 Treble Clef Note Name Games | Extend the Staff
These extended sets include treble clef notes up to one ledger line above and one ledger line below the staff. These activities are still separated into two different sets of lines and spaces only.
Students really enjoy the game-like atmosphere of the Gravity and Matching games. And, we created some friendly competition activities using these timed games.
**Remember to click full-screen mode to see the notes first.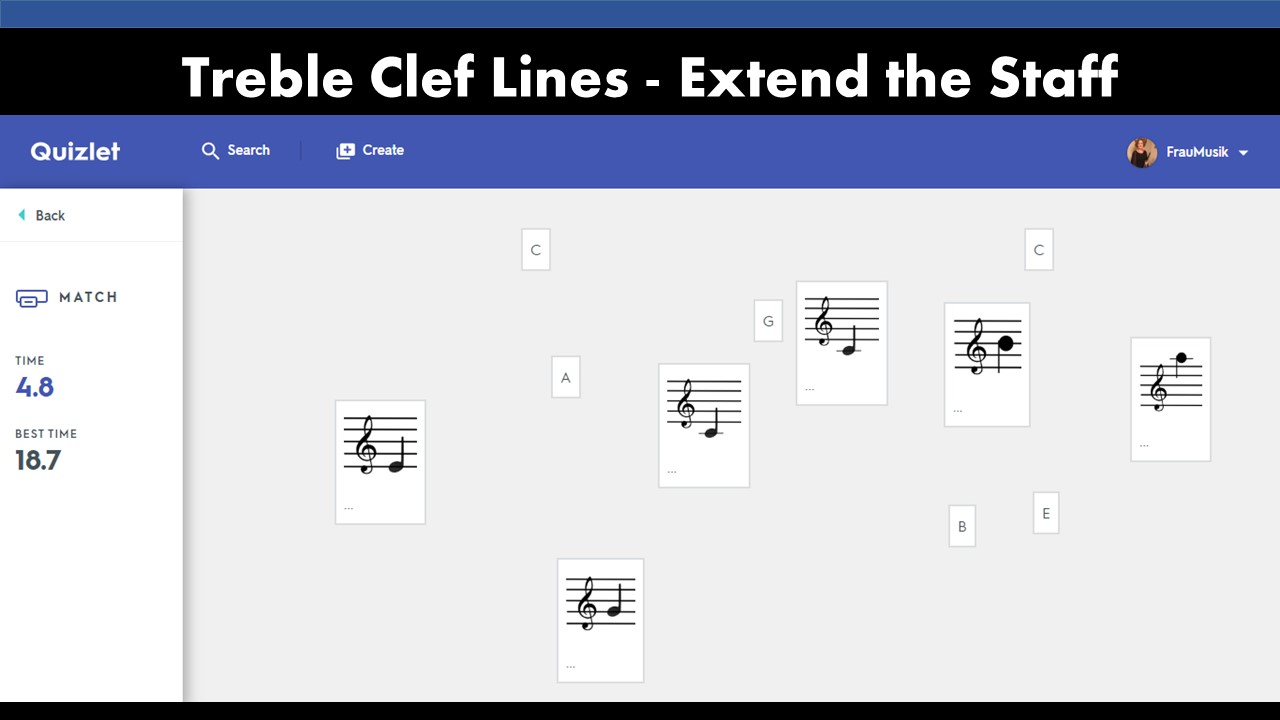 Treble Clef Note Name Games | Lines & Spaces Combined
The next two sets combine all of the treble clef lines and spaces notes together. The BASIC set is limited to notes on the staff. The EXTENDED set includes notes up to one ledger line above & one ledger line below the staff.
**Remember to click full-screen mode to see the notes first.
Quizlet Works with a Variety of Devices
Quizlet is compatible with most devices including iPads, phones, computers, & Chromebooks. The matching game looks different depending on your device.
If you are using a mobile device, the game becomes a tap & match format.
Important Notes About Using Quizlet
You may be prompted to sign up or log in. At the current time, you do not need to do either to use these study sets.
When you are using Flashcard mode, the note image will simply enlarge if you tap directly on it. Tap the corner of the card to turn it over and reveal the answer.
Quizlet is a VAluable Learning Tool
Quizlet offers TONS of resources that you can access 100% free of charge. It is an especially good tool for foreign language vocabulary practice and of course, learning musical note names. My students love the Italian pronunciation in these Quizlet Dynamics Activities. If you are interested in digital online products that track student learning, check out this post about Using Boom Cards in the Music Classroom.
The variety that Quizlet and other online tools provide helps increase novelty and keep students motivated. The friendly competition and incentive provided by the Gravity and Match modes makes these free treble clef note name games your secret ingredient.
Enjoy!
---
More Note Names For Treble Clef
Are you in need of more elementary music activities to teach and practice treble clef note names? The bundles below are perfect for centers or stations, sub days, group activities, and more. Both of these sets follow the same sequential pattern as the Quizlet activities above.
Click to preview these Treble Clef Note Names Boom Cards or Interactive PowerPoint Games.
Pin to Save for Later