Teaching young children to read music has been my mission for many years. When I first started teaching elementary music, there were very few ready-made resources to facilitate music literacy in the elementary grades. To make matters worse, most music teachers worked in isolation. There was no one else in our building, possibly in our districts that did the same thing we did.
Before the development of supportive online music communities, this isolation caused music teachers to do one of two things – create their own music literacy resources, or, give up on the idea of teaching young children to read music in large group settings.
Today, no one truly teaches in isolation. You may still be the only music teacher in your building but the world is at your fingertips and may be accessed right from your computer keyboard. There are supportive music communities where you can glean free resources, ideas, tips, and techniques. There is abundant information available to be instantly accessed and many classroom-tested resources which have been created by teachers for teachers.
Music Literacy | Teaching Young Children to Read Music
Reading music is often a mystery to young (and not so young) students. Our job as teachers is to give students a systematic way to make sense out of musical notation. My students often asked me, "How do you know what a song sounds like if you haven't heard it before?"
My answer to them was always this. "In our library we have many books. How do you know what those books are about? You read them, of course."
But, they didn't know the process for reading the music unless a teacher led them through that sequence. That spurred me to make our steps for reading music poster for our classroom.
Some variation of this poster has been on the wall in my classroom for many years. My students know the process and rarely need the prompt, but if they do, it is there.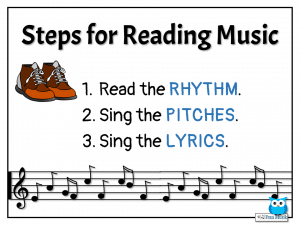 Step 1 – Read the Rhythm
It doesn't matter what rhythm reading system you use as long as you are consistent. Kodaly, Gordon, French Time, Takadimi, all serve the same purpose. But, PLEASE, PLEASE, PLEASE, do NOT say "Sh" for rests. Rests do not make any sound. Also, please do not use the Number System with young children. They simply are not ready. For more about rhythm syllables, check out this excellent post on Make Moments Matter.
Young children ARE very capable of starting with standard musical notation. For more about using standard notation with beginners, check out this post – Rhythm Reading & Young Children | Stick Dictation vs. Standard Notation.
Step 2: Sing the Pitches
When singing the pitches, I use solfege syllables exclusively with young children. We use hand signs to add a kinesthetic element.
At the 4th grade level, I begin also using the numerical pitch system during our warm-ups only. These warm-ups are mostly scale patterns, arpeggios, etc. This helps older students develop a sense of harmony and sets them up to do some fun jazz stuff (12-bar blues) in our recorder unit.
Step 3: Sing the Lyrics
When teaching young children, I use the term lyrics, even with little ones. They learn very quickly. So let's teach them music vocabulary right away.
The music reading series that I created for use in my classroom uses these three steps with prompts, games, instrumental accompaniments, and other activities built into the lessons. I have spiffied up and re-created these lessons to share with others on TpT.
Check out the bundles below which are available now. I am always working on more music reading lessons and activities to help teachers and students build music reading literacy levels.
More Music Literacy Bundles Coming Soon!

Click to preview these guided music reading series.
Structure Lessons for Success
Developing music literacy skills & teaching young children to read music does not happen by accident. For more info on developing music literacy in the elementary grades, check out this post about sequential lessons which build on prior learning.
---
CLICK HERE to Follow FrauMusik USA on TpT to get notified when new resources are posted.