A Virtual Field Trip to the Symphony Learning About Musical Instruments
Listen and learn about musical instruments with a virtual field trip to the symphony. Enjoy the videos of varying styles and genres.
Have you ever wanted to take your students on a field trip to the symphony but it is too far away or it costs too much? Learning about the instruments of the orchestra and band has never been easier with all of the quality performances posted online.
But gathering videos and preparing lessons can be time-consuming. "Enter ThingLink." With these FREE No Prep ThingLinks, your Virtual Field Trip to the Symphony is organized and ready.
Just add kids!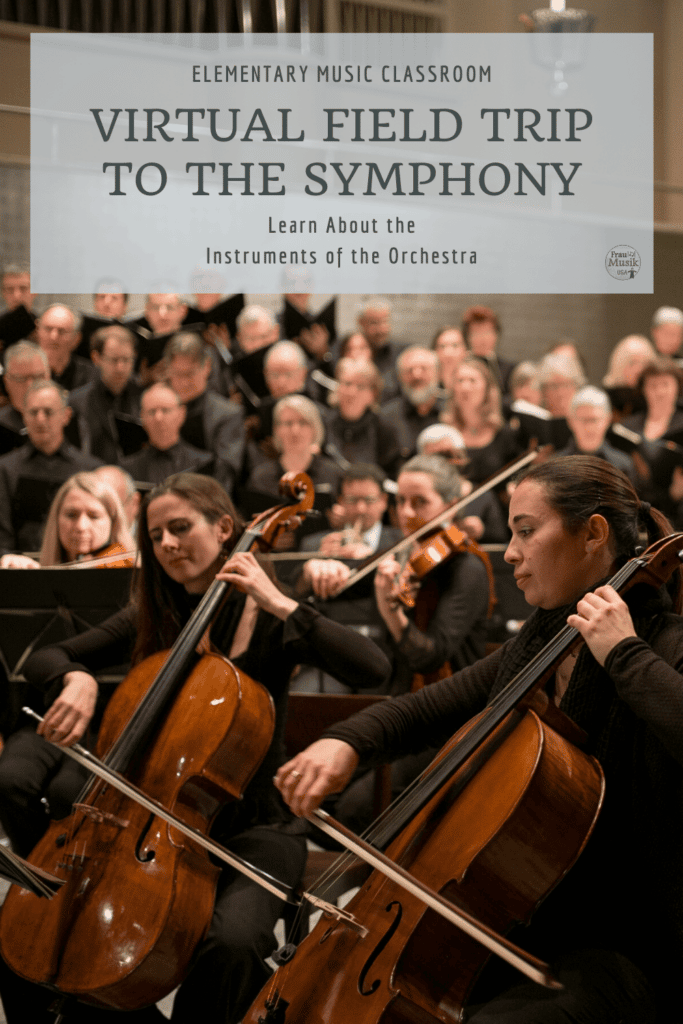 What's in this post? Click to open Table of Contents
Hook Your Students by Listening to a Wide Variety of Styles and Genres
I posted these musical instrument ThingLinks a few years ago to help my students learn about instruments and they're still as popular as ever. There is a wide variety of styles and performers, from pop to classical, to Disney, to a marching band drumline. There is something to "hook" all of your students.
Students can also access the performances at home and they do. Since I posted these listening lessons, they have had over 200,000 views and I had to reset the stats. Go ThingLink!
Motivate and Inspire Your Students by Listening to Quality Performances
TRUE STORY – Recently, a classroom teacher reported that one of her boys had worked very hard to earn free iPad time. This was a rare occurrence for him. During his free time, he could choose to do anything appropriate for school.
He chose to watch these Virtual Field Trip ThingLinks! He spent his precious 20 minutes with headphones on, sitting quietly mesmerized by the instruments, the music, and the videos. His teacher was amazed and frankly so was I!
How to Access and Use these FREE NO-PREP Listening Lessons
I created these ThingLinks in instrument family groups. Click the link below each instrument family to open the activity. Then, follow the simple directions below.
Click the instrument family you want to explore to open ThingLink.
Hover over the image. Near each instrument, you will see buttons appear. These buttons are links to two different videos for each instrument. (Cello has a bonus video. I couldn't resist.)
Click on each button to watch, listen, and enjoy.
Follow Up Listening Lessons with Fun Musical Instrument Puzzles
These ThingLink musical instrument activities pair well with DIGITAL and/or PRINTABLE Musical Instrument Word Search and Crossword Puzzles. Use them as standard printable worksheets or assign the activities on a computer or Chromebook.
Highlight one instrument family per class session or for use as centers or stations.
Suggested Teaching and Learning Sequence
String Family Day 1: Listen to 1-2 minutes of the first performance of each instrument and complete the word search puzzle.
String Family Day 2: Listen to 1-2 minutes of the second performance of each instrument and complete the crossword puzzle.
Highlight only one instrument family per class session as you continue this same sequence.
These instrument activities are ideal for your sub plans if you have an extended absence. And when you highlight the same instrument family for two days, students who are absent for one day will not miss out completely.
And, this sequence gives you time to make music during each class session.
Use Safe Viewing as Outlined by Your School Policy
As an added benefit, when you currently access YouTube performances through ThingLink, you avoid any unsavory ads or commercials which may pop up if you go directly to YouTube. Frequent updates often change the way apps work. Be sure and double-check from time to time to confirm that no updates or policy changes interfere with this feature.
Bonus: No Permission Slips Needed for this Field Trip
There's NO long bus ride and no admission costs.These ThingLinks and this Virtual Field Trip to the Symphony is ready for use in your classroom. And, best of all, you can take your students whenever you want. 😊
---
P.S. You're welcome to link these ThingLinks or this post to your school website. Please don't forget to credit me if you do. Enjoy!
Do you Need More Quality Resources to Learn More about the Instruments of the Orchestra?
Although you will enjoy teaching these fun, informative lessons, they also work well as SUB LESSONS! Use the optional guided notes worksheets to hold students accountable. Answer keys are included.
Each rNO-PREP resource includes a PowerPoint presentation that is compatible with Google Slides and includes professional YouTube video links. Just download, print the optional worksheet (if desired), and present. It is that easy!
Save over 20% when you invest in the time-saving Instruments of the Orchestra and Band BUNDLE.
Related Posts
Meet the Author
Terri Lloyd is a former elementary music teacher with over 25 years of experience. She holds a Bachelor of Music, a Master of Science in Education, and a Technology Certificate in Instructional Design.
She is currently active in music education through blogging, workshops, and curriculum development. She serves on the music staff at her church and volunteers for an after-school children's program. Terri is an active musician in the community, performing in a local Big Band, pit orchestras, and various events.
Pin for Future Reference