Patriotic songs should be woven into elementary music lesson plans throughout the year. But, they work especially well for patriotic holidays. Our school has had a tradition of starting each all-school assembly with the Pledge of Allegiance followed immediately by a patriotic song. The audience would all join in too. What a GREAT way to start an assembly.
I have identified what I call "The Big 6" patriotic songs that I would teach my students at each grade level. This list is cumulative. So, by fourth and fifth grades, students could sing all of these songs from memory.
There are many different children's storybooks depicting each of these songs. Add a storybook and you have a complete elementary music lesson plan.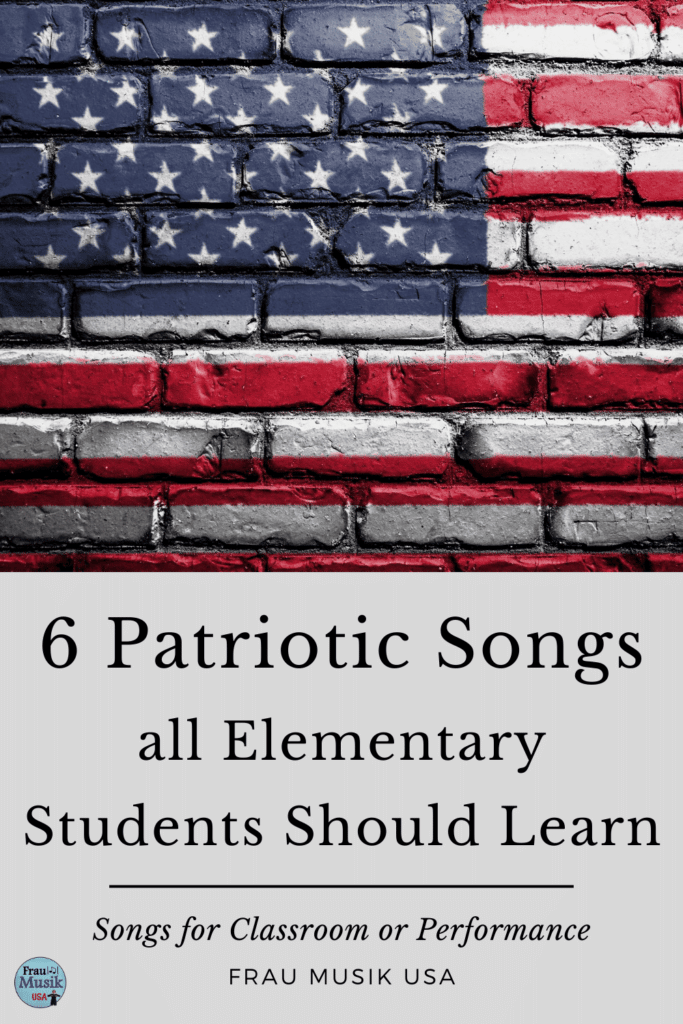 Important Note: Teaching patriotic songs is ABSOLUTELY NOT about being political. It IS about teaching students the songs of our nation that UNITE us as a country. Take care to teach them as such.
Core Repertoire of Patriotic Songs for Elementary Students
Developing a core repertoire of patriotic songs makes it much easier to put together programs for any patriotic event such as 9-11, Veterans Day, Presidents' Day, Memorial Day, or the 4th of July. I would almost always include a version of one of these songs in our annual Veterans Day programs. When possible, it was often a highlight of the program to invite the audience to sing along with us on one song.
By teaching songs in a standard sequence, each grade level has a chance to learn all of the songs. At the beginning of the year, we would review each song at all grade levels and learn additional verses. This helped students who were new to our school learn the songs and become a part of our school community too.
The range and vocabulary of many of our standard patriotic songs are too difficult for young elementary students. Adding sign language or actions makes songs easier to remember for young children.
Kindergarten
This Land is Your Land, Woody Guthrie (Refrain only)
Grand Old Flag, George M. Cohan
Grade 1
This Land is Your Land, Woody Guthrie (Add Verse 1)
America (My Country 'Tis of Thee), lyrics by Samuel Francis Smith
Grade 2
This Land is Your Land, Woody Guthrie (Add Verses 2 – 3)
America, the Beautiful, Katharine Lee Bates
Grade 3
The Star-Spangled Banner, Francis Scott Key (Verse 1)
Grades 4-5
The Star-Spangled Banner, Francis Scott Key (Verses 1-4)
God Bless America, Irving Berlin
More Patriotic Songs for Elementary Students
Of course, these 6 songs are NOT the only patriotic songs that elementary students should learn. They simply form a CORE repertoire. Below are a few more of my favorites that I have used successfully for class and/or performances.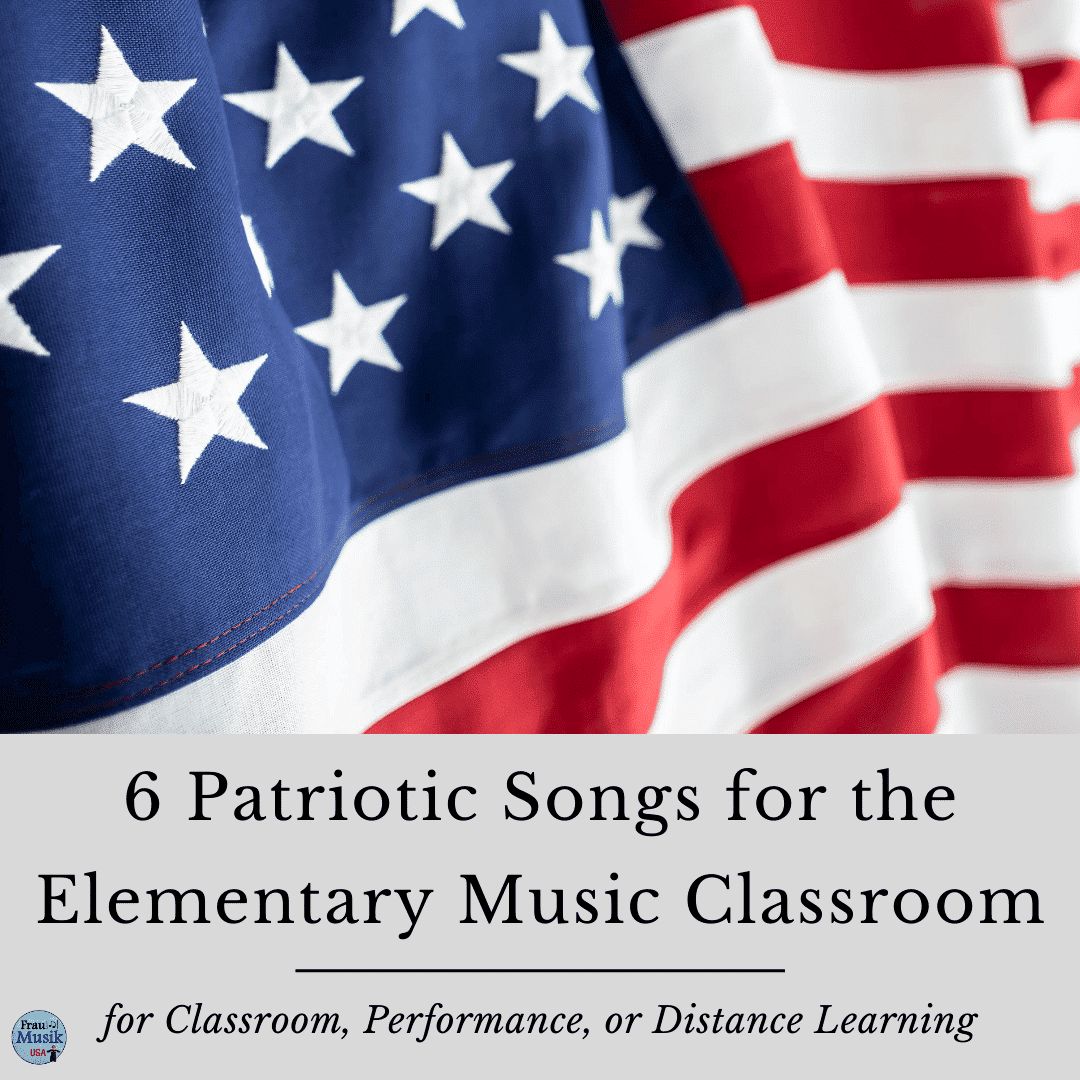 Allegiance Rap, by Teresa Jennings
Fifty Nifty United States, by Ray Charles
The Preamble (School House Rock), by Lynn Ahrens
We Remember, John Jacobson & Mac Huff
Yankee Doodle
Yankee Doodle Boy, George M. Cohan
Patriotic Collections & Programs
I don't think I have ever used any music program as is without modifying it to some degree or another. Below are a few patriotic music programs that I can recommend. I have used at least a portion of the songs and/or narration of each.
Conclusion
Have you ever seen any of the late-night comedians ask people on the street to sing one of our nation's patriotic songs? Most of the people they encounter are unable to sing even one verse of these important songs of our nation's heritage.
By singing these "Big 6" patriotic songs each year, your elementary students will know and be able to perform them throughout their lifetimes. These are not just patriotic songs that all elementary students should know, they are songs all American Citizens should know.
More on the Blog