Music was an important part of the Civil Rights Movement. And, teaching black history songs is a natural element of elementary music lessons. Music teachers are always short on class time so using music lessons that multitask maximizes class time and teaches important lessons that all students should learn.
African American songs are a part of our country's history. And, civil rights songs, especially spirituals, are some of my favorite genres.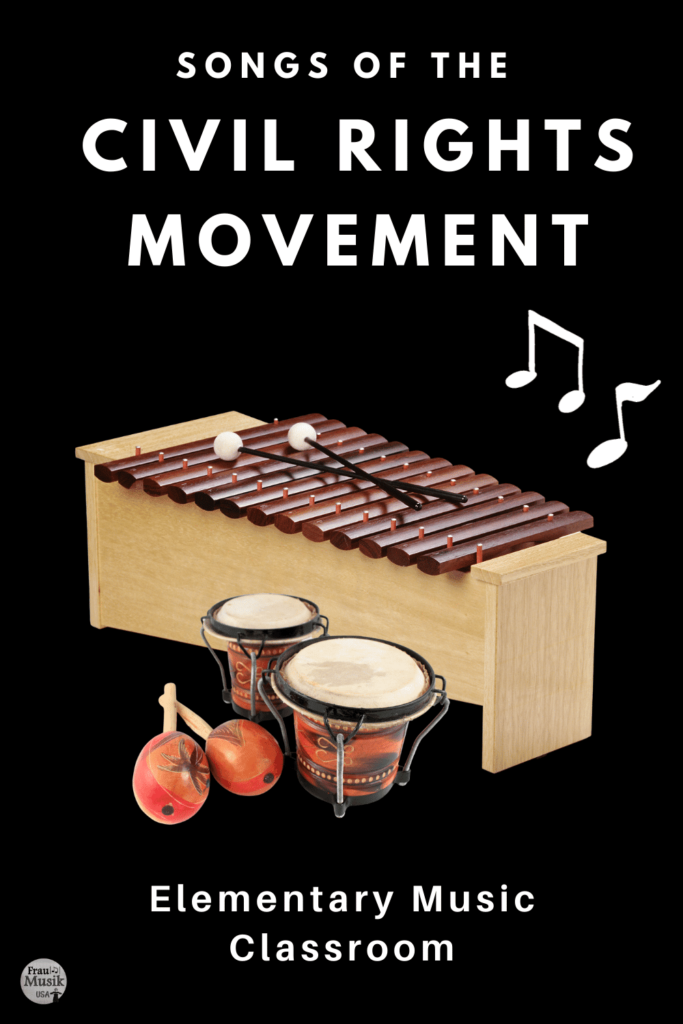 Black History Music Lessons that Multi-Task
As music teachers, our primary tasks are to teach music reading and performance skills. Music reading should be integrated into every lesson. But, music also provides a perfect medium for being inclusive and teaching about history. Music lesson plans that teach and reinforce music reading skills AND provide attainable performance options while simultaneously teaching about black history are a WIN-WIN-WIN!
Songs Pair Naturally with Biographies of Civil Rights Leaders
The song Oh, Freedom is a perfect pairing with a short biography of Dr. Martin Luther King, Jr. He grew up singing in the choir of his church. He knew the power of music to motivate and inspire others.
I can envision Rosa Parks sitting in her bus seat in Montgomery, Alabama when I hear the song I Shall Not be Moved. Her quiet protest fueled a movement which made a profound change to her city and our nation.
Even children helped in the fight for civil rights. This Little Light of Mine pairs well with a short biography of six-year-old Ruby Bridges. Even though Ruby faced angry mobs as she walked into William Frantz Elementary School each morning, she was not bitter. Instead, she prayed for the people who were protesting her attendance at the school.
Use Authentic African American Spirituals
I have come across a few nicely composed pieces for Black History Month. However, I feel it is important to also use authentic, African American spirituals. These songs have stood the test of time. They are singable for young students AND they are a part of the history of the Civil Rights Movement.
The Orff arrangements that accompany these music lessons include differentiated music reading and performance activities for grades K-5. Each spiritual includes two rhythmic and two melodic Orff accompaniment patterns including attainable performance options for younger students while challenging older students.
Each resource has an early elementary and an upper elementary version of a "spotlight" on a civil rights leader. These short biographies help students understand the historical connections of these songs and the civil rights movement.
Click the short video previews below to listen to the Orff accompaniments for each song.
Black History Month Songs Know No Season
Spirituals and songs of the civil rights movement truly know no season. These songs can and should be used all year long. They are part of the diverse fabric from which our nation has been created. Black history music lessons are always in season.
Share This Post
Share this article to help other elementary music teachers find this helpful post.