6 Ways to Integrate Camp Songs in Elementary Music
Traditional camp songs can be a valuable addition to your elementary music classes. See these fun ways to actively engage your students.
Traditional camp songs can be an important tool for developing music literacy in the elementary music classroom. Take a peek at the ideas below which can turn fun and sometimes silly songs into real music learning experiences.
But first, let's talk about WHY you should integrate camp songs into your elementary music curriculum.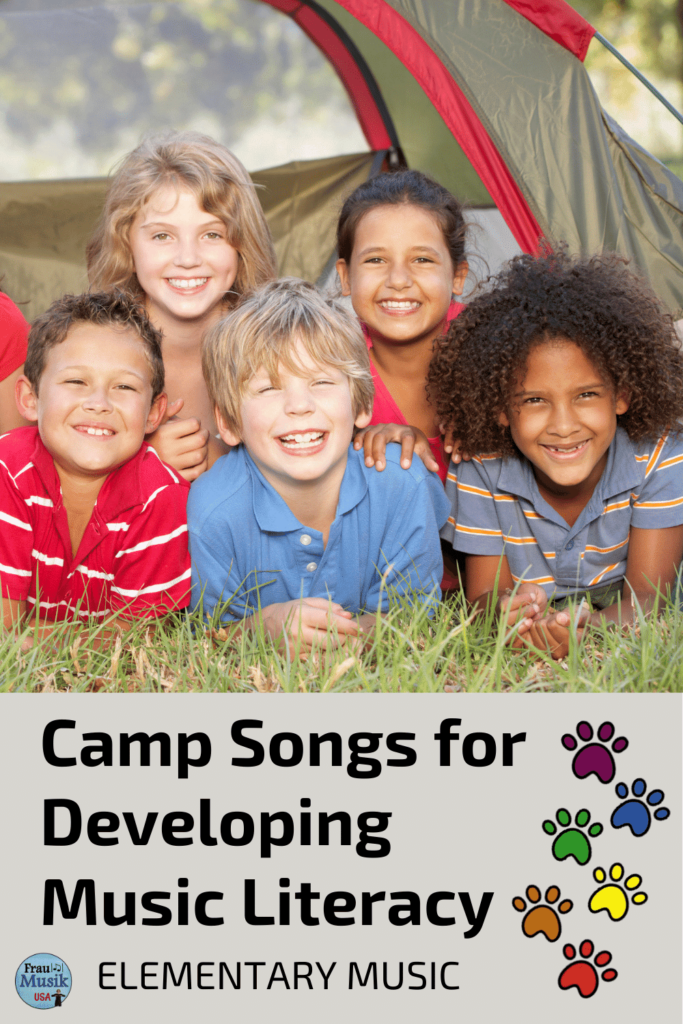 Why Use Camp Songs in Elementary Music
There are MANY reasons to use traditional camp songs in elementary music classes.
Kids need to learn how to have "good, old-fashioned fun." Silly camp songs are fun by nature. Help your students learn how to unplug and have fun.
Camp songs naturally draw students in and increase engagement in music class activities. Even reluctant singers will be more likely to engage in these fun songs.
Many children are exposed to a lot of inappropriate media. Even cartoons and television shows which are written for children often send negative messages. Choosing our literature carefully can help build character and show students how to have fun without being disrespectful or demeaning anyone.
Many of your students will probably never get the opportunity to go to summer camp. They may not learn these traditional songs elsewhere. Pass on the tradition.
How to Integrate Camp Songs Into the Elementary Music Curriculum
At first glance, camp songs may seem to be a silly form of entertainment, but not all camp songs are silly. And these traditional songs can provide REAL MUSIC LEARNING opportunities. It is important to integrate music reading activities into every class. Read on for tips to teach music skills through traditional camp songs.
1. Develop a capella Singing Skills
Many of our students are bombarded with recorded music all day long. Very little, if any, is a capella. A capella singing is the best way to help students build vocal performance skills. It also teaches students that they can sing anywhere at any time. They do not need accompaniment.
2. Integrate Rhythmic Orff Ostinato Patterns
Even if a song has complex rhythms it still may be the perfect song for integrating simple rhythmic ostinato patterns. Rhythmic ostinati may be added to any song. And you can tailor ostinato patterns to specific elements that your students are learning. Better yet guide students to create their own rhythmic ostinato patterns.
3. Add Melodic Ostinato Patterns
Many traditional camp songs have tricky melodies that elementary students are not yet ready to read. If a melody is too complex create simple Orff melodic ostinato patterns to match the music reading skills of your students.
4. Add Chordal Accompaniments
The simple harmonic structure of most camp songs makes it easy to create simple chordal accompaniments. Use whatever instrumentation you have available – barred instruments, Boomwhackers, recorders, or even keyboards.
5. Add Ukulele Accompaniment
The simple chord progressions in most camp songs are perfect for beginning ukulele players. Adding ukulele creates a "campfire" ambiance. You might even want to set up a faux campfire in your classroom to help create the camp vibe.
6. Use Camp Songs as Performance Assessments
Ostinato patterns and other performance activities may be used as assessments as well. Music assessments that are naturally integrated into the flow of class save time. They are efficient, authentic, and valid.
K-5 Differentiated Activities
These NO-PREP camp song resources are specifically designed for the elementary music classroom. They have been created with differentiated activities for multiple grade levels.
Each of these common camp songs includes an Orff arrangement with 2 rhythmic and 2 melodic accompaniment patterns of varying degrees of difficulty.
Other activities include movement and fun facts to provide enrichment and help students make connections. These "add-on" activities help to extend the lessons over several class periods without becoming stale.
Click to listen to each arrangement in the video previews.
Teach Part Singing with Camp Songs
Many camp songs lend themselves to simple harmonic singing. Rounds, partner songs, and songs with descants provide fun, attainable opportunities for young musicians.
The silly partner songs that go along with One Bottle Pop are some of my students' favorite songs year after year. Since each song begins and ends on Do, it is easier for students to accurately perform the harmony parts.
Let's Have Some Good Old-Fashioned Fun
Using camp songs in elementary music class can be a fun way to engage your students in REAL MUSIC LEARNING experiences and integrate music literacy activities. As a positive by-product, you get to teach your students to have some good old-fashioned fun!
---
If I haven't convinced you that camp songs DO have a place in elementary music yet, click to see this guest blog post by Zach VanderGraaff for 8 More Reasons to Teach Camp Songs in Music Classes.
Meet the Author
Terri Lloyd is a former elementary music teacher with over 25 years of experience. She holds a Bachelor of Music, a Master of Science in Education, and a Technology Certificate in Instructional Design.
She is currently active in music education through blogging, workshops, and curriculum development. She serves on the music staff at her church and volunteers for an after-school children's program. Terri is an active musician in the community, performing in a local Big Band, pit orchestras, and various events.