Fun Winter Holiday Song for Elementary Music – African Noel
Do you need FUN winter holiday songs for elementary music class or performance? African Noel with differentiated activities is perfect.
Are you searching for a fun and attainable winter holiday song for your music class or for a performance? This simple joyful song, African Noel, will become a favorite for you and your students. And the K-5 differentiated activities in this arrangement make it perfect for all-school performances. The song and step dance are easy for kindergarten while the instrumental accompaniments provide a challenge for your upper elementary students.
African Noel can do double duty as a Christmas song or to celebrate Kwanzaa. It is perfect for all-school performances.
Click to listen to the Orff arrangement below.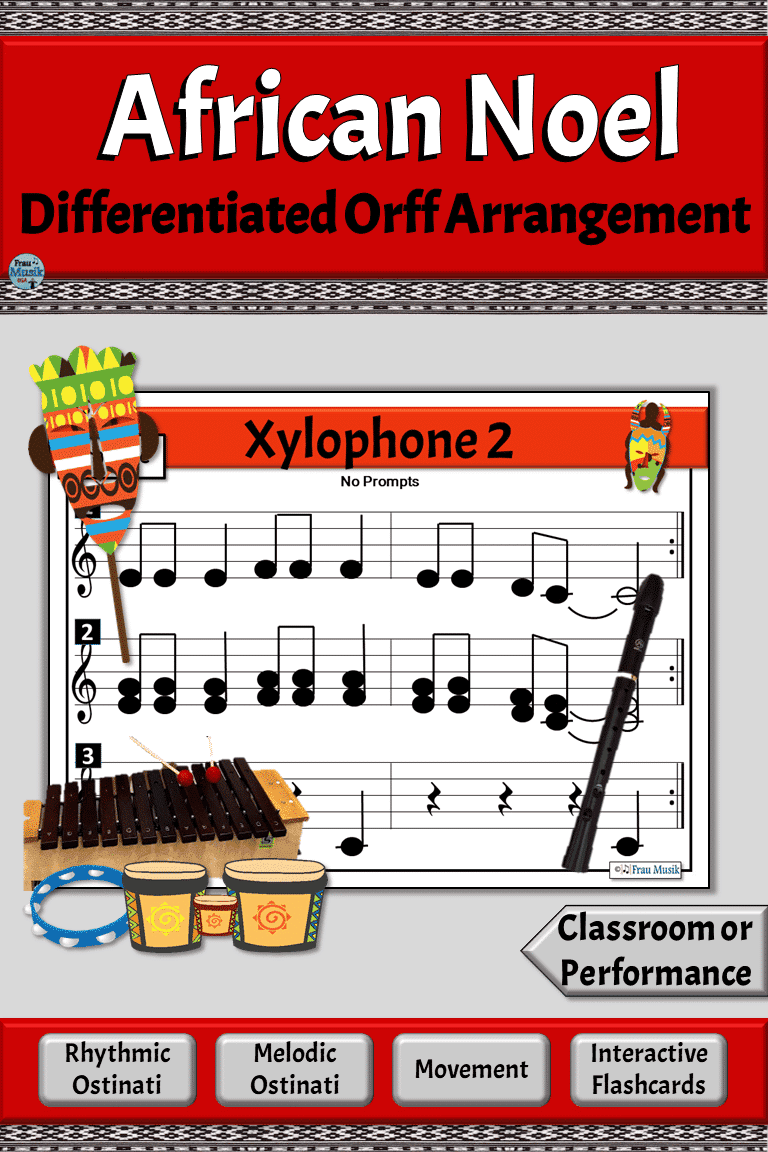 Differentiated Activities for Elementary Grades
This arrangement includes three different levels of differentiation along with suggested activities for each grade level. In order to provide for differentiation between grade levels as well as within each class, the activities themselves are NOT labeled with levels or grades. Meet your students where they are. Use the activities which meet the needs of each class.
Multitasking Winter Holiday Song
This multitasking song includes MANY fun activities to teach various musical elements and concepts.
Form – ABA
Simple Step Dance – Steady Beat
Vocabulary – Introducing Ties
Interactive Flashcards | Note Values and Ties
Ostinato 1 – Tambourine
Ostinato 2 – Bongos
Xylophone 1 (or other barred instrument)
Xylophone 2 (or other barred instrument)
Teaching Tips – Form, Song, and Movement
Song and Form. Teach the form and song at the same time. Identifying the form will help students learn the song.
Step Dance. Add movement near the middle of a class session. Young children "check out" if they sit too long. The simple step dance breaks up long class periods.
Unpitched Rhythm Instruments and Body Percussion
If your students are ready, read the rhythm pattern first. If not, learn the patterns by rote and add body percussion.
Use the following vocal pattern to guide students as you practice the tambourine part as body percussion using your hands. Clap, (Z), clap, (Z), clap, (Z), sha-ake.
Note: Z = rest
Learning Bongos Pattern
When teaching bongos patterns, it is important to identify the higher and lower drums. Position the drum so the lower drum is on the left.
Read the rhythm pattern first.
Identify students' left knee as the lower pitch of the bongos and their right knee as the higher pitch.
Practice using body percussion on students' knees while reading rhythm patterns and/or the accompanying lyrics.
Note: (Be sure to reverse the pattern as you demonstrate.)
Teaching the Pitched Percussion Accompaniment
Learn Each Pattern Separately. When you chunk the song into short phrases students will learn faster and retain more.
Low/High. If your students are not yet reading treble clef notes (and even if they are) this is a good opportunity to draw their attention to high/low and how the patterns match the instrument. You can use this mantra to help students remember that the low notes are "low, long, and left".
Form. Draw students' attention again to the form of the song. Teach each section separately and show how the accompaniment matches the form, melody, and lyrics.
Read the Rhythm. Even though the rhythm is simple, don't skip this step. If ties are new to your students, begin by reading the rhythm without the ties, then demonstrate how the ties simply slide into the next note without re-articulating. If you are using Kodály rhythm syllables, patterns 1 and 2 would sound like this, ti-ti ta, ti-ti ta, ti-ti ti-ti-ah-ah.
Sing the Pitches. To provide for differentiation, the music is notated both with and without note name prompts. Slides may be printed to assist individual students if necessary.
Demonstrate and "Air Play". Use the xylophone template provided in this lesson to demonstrate what the patterns LOOK like. Direct students to use their fingers as mallets, point them at the board, "air play" and sing the pitches as you demonstrate. (When playing two notes at once, I have students sing the lower pitch and maintain an interval of a 3rd. They catch on quickly.) Additional directions are included in this resource.
DON'T SKIP "Air Play" practice. It will save you SO much time and students will be much more successful.
Note: If you need versatile, interactive xylophone templates that work for any song on any standard Orff instruments, click to preview this set of 6 Interactive Mallet Instrument Templates.
Your Search is Over
You have found a perfect holiday song that will be a classroom favorite for years to come. And with the differentiated activities, African Noel "grows" with your students. Because your upper-level students already know the song, it is easier for them to learn to play the instrumental parts.
This tried and true song has worked SO well for SO many Holiday Music Assemblies by thousands of students. See what other teachers have to say below. Enjoy!
---
See What Other Music Teachers Have to Say
⭐⭐⭐⭐⭐ Farrah F. – I used African Noel with my 4th and 5th graders that come to me for enrichment. I love how there are different options for use with keyboard instruments or unpitched percussion….. We rotated through different combinations of parts so they were able to play a variety of instruments. I liked how the slides progressed, used marked and unmarked note heads. The kids felt like they really accomplished something when we were through.
⭐⭐⭐⭐⭐ Jennifer M.- My students loved this! I have a 2/3/4 split class, so the differentiated rhythms allowed me to assign instruments to different grades. They performed it at our school Christmas concert – it was a huge hit!
⭐⭐⭐⭐⭐ Veronica – I was having a hard time finding a piece for our Holiday concert for grade 6. When I showed them the song for this resource, they loved it! ….. It worked out great! The students were very excited with the results. Thank you so much!
⭐⭐⭐⭐ Steven A. – My students benefitted from the clear structure of this piece. I've tried to use the choral arrangement of "African Noel" but it didn't appeal to my ESL students (whole school). Now I found a chance to get them energized! Thanks!
⭐⭐⭐⭐⭐ Christina C. – So much fun! Loved that it is leveled so many of my classes can participate at the level they are at! Thank you!
Need More Diverse Winter Holiday Songs?
Do you need more Diverse Winter Holiday Songs for your classroom or performance? Take a peek at this post. Don't miss the FREE Chinese New Year and Ramadan song included in the post.
Meet the Author
Terri Lloyd is a former elementary music teacher with over 25 years of experience. She holds a Bachelor of Music, a Master of Science in Education, and a Technology Certificate in Instructional Design.
She is currently active in music education through blogging, workshops, and curriculum development. She serves on the music staff at her church and volunteers for an after-school children's program. Terri is an active musician in the community, performing in a local Big Band, pit orchestras, and various events.